With the increasing penetration of Internet amongst the population of India, more and more people have started buying stuff online. While most users always prefer Cash-on-Delivery (COD) as the payment option, there are some who make their payments digitally as well. This is what has given rise to online payments. If you are into online payments and recharging, you must have heard about digital wallets like FreeCharge and PayTM. In a move to take advantage of growing digital payments in India, FreeCharge has announced that its users can now send and receive money via WhatsApp.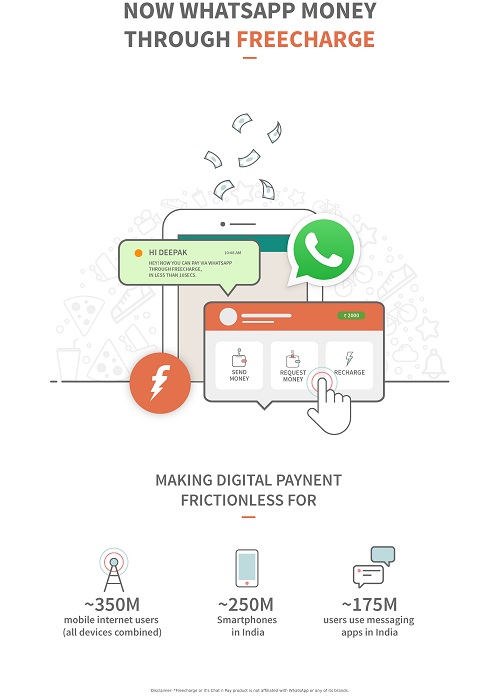 FreeCharge aims to make digital payments convenient for new users by leveraging the popularity of WhatsApp in India. Almost every person who owns a smartphone has installed WhatsApp on his smartphone.
Payment via WhatsApp through FreeCharge is made possible by the Chat-n-Pay service, a social payment service developed by FreeCharge. However, only the FreeCharge users on Android platform can send and receive money from WhatsApp, as of now.
"Social payments is a key pillar for a great customer experience and a stepping stone to building habit commerce. Today, we have taken social payments to the next level by enabling consumers to pay via social platforms like WhatsApp. We are confident that this step will make digital payments a part of daily life of Indians and Freecharge will be at the heart of it as the Payments Operating System for a Digital India." said Govind Rajan, COO, FreeCharge.
How to activate FreeCharge on WhatsApp and transfer money
Go to "FreeCharge on WhatsApp" from the FreeCharge menu.
Click "Enable" to enable FreeCharge in accessibility settings
Open WhatsApp
Type amount  followed by FC. For example, 100FC
Choose your options – send/request money or recharge
You can read more about it here.