Popular cloud storage service, Box has today announced its partnership with smartphone manufacturer LG and will be offering LG device owners running Android OS, 50 GB of free cloud storage.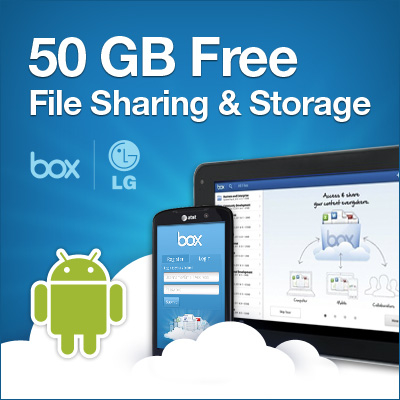 All LG devices with Android 2.1 or later and screen resolution of 480 x 320 pixels (HVGA) or above are eligible for the free 50 GB storage.
Anybody who owns a LG device will just have to log in from Box for Android app and they will automatically get 50 GB of cloud storage. Any LG device owner with Android OS will have time up to 31st December, 2012 to claim the offer.
 
The Box app for Android device has also been updated recently and goes on to bring in new features which are as follows:
 
Previews of documents are now rendered right in the app so you can see your files without opening them!

Ability to download and save whole folders for offline use (store in encrypted cache)

Brand new transfer manager

App handles shared link URLs

File and folder descriptions are now viewable and editable
So if you own an Android OS running LG devices, download the app from the Google Play Store and login to get 50 GB of cloud storage.