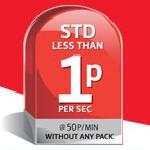 They had introduced similar plan earlier but now they have redesigned it. I am talking about Virgin Mobile. The mobile operator's market was taken back by storm when they had launched their STD portfolio with just 50p/min calling rate to any state across India. But now with the heating up of this sector, operator's are bound to reduce their call charges to stay in the game. Now Virgin Mobile has taken a step ahead in reforming the STD voucher with the idea of relaunching the scheme with less than a 1p/sec scheme. They claim that they are offering STD calls at much lower price than before. One can avail of this for a one time recharge of Rs.14 and they are good to go. The recharge comes only in EVD. New customers will need to buy a SUK for Rs.99 and yeah they will in race too.
So the initial 3 minutes of the STD will be charged at Rs.1.5 and then 50p/min for the next 57 minutes. Count it and you save 10p/min on every call if its on  less than a 1p/sec basis. A call will be charged 60p if its up for 1 minute but on Virgin Mobile its only 50p/min. Well ti sure seems a good idea of grasping some customers. But the system has got a few disadvantages too.These are stated below:

For the first 3 STD minutes of the day, your calls will be charged @ Rs.1.5/min. From the 4th STD minutes onwards, you will be charged 50p/min

STD calls @ less than 1p/sec based on 50p/min are subject to a maximum of 60 mins per day

Virgin Mobile subscribers on an existing Bak Bak plan who want to switch to this plan can do so with a recharge of Rs.14. (This recharge also offers full talktime after Tax deduction)

New Bak Bak subscribers can switch to an existing Bak Bak profile through a recharge of Rs.13 (This recharge also offers full talktime after tax deduction).