Facebook-owned WhatsApp is adding new features consistently, a number of features are added in recent years. Features such as video calling, status stories, picture-in-picture mode, delete messages, encryption and much more are already added. There are a whole lot of upcoming WhatsApp features that you might want to get your hands on before anyone else does. So, here's what you can do to to get latest WhatsApp features first.
How to get latest WhatsApp features
To get the features, you will need to become a WhatsApp beta tester because beta testers are the ones who receive latest features before the stable releases that you see on Google Play. You can get the beta version of WhatsApp on Google Play, all you need to do is apply for WhatsApp beta program.
Step 1: Enter WhatsApp Beta Program
Visit the WhatsApp beta URL to access the WhatsApp beta program.
You will be required to log in to your Google account. The Google account must the same that you use on your Android device running WhatsApp.
Hit the blue button saying "Become A Tester" and you will become a WhatsApp beta tester.
Step 2: Download WhatsApp Beta
Go to Google Play store and update WhatsApp to the beta version. A message will be displayed saying that 'You're a beta tester for this app. Awesome!'.
Once updated, you will receive all the features that are present in the current beta version. Any unreleased versions of WhatsApp can be accessed by beta testers, however, these versions may not be stable and you may experience issues with the app.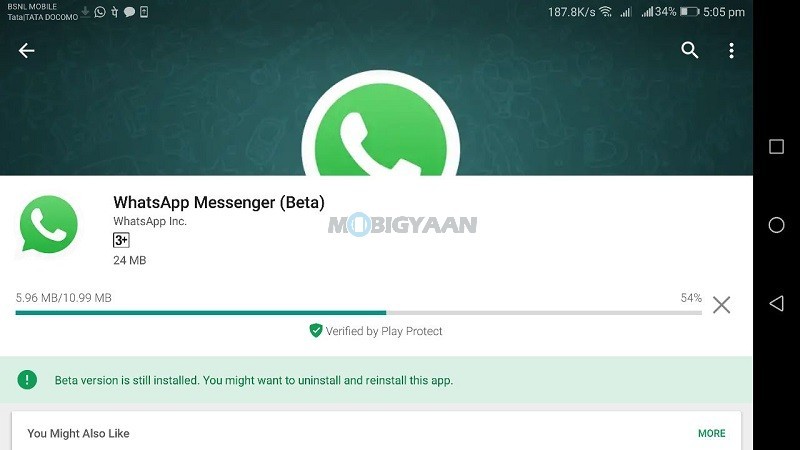 If you do not want the beta versions, but go back to the normal WhatsApp, visit the same WhatsApp beta link mentioned above and choose 'Leave the program'.
Make sure you have uninstalled WhatsApp beta after you're done with it. Install it again from the Google Play store to get the stable WhatsApp.
That's all for it. If you like the guide, share it with your friends. Do check more of them here at How-To Guides.