Olympics games are the biggest sports event in the world, and, this year's Olympics games are held in Rio, Brazil. The Rio Olympics 2016 kicked off last week and will continue till August 21, 2016. Even if the games are interesting, most of us can't visit the place and so we watch them on television. But, even if the Olympics games can be seen on TV, most of us are busy with our daily routine and hence can't watch the games on TV as well.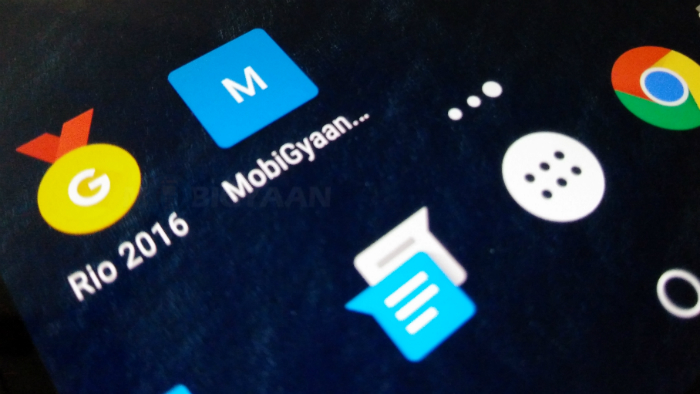 Those of us who couldn't get time to watch the games on TV switch to various apps available on the Play Store to stay updated. While there are many apps available on the Play Store, not all of them do a good job and provide all the details at one place.
If you are someone who wants to stay updated with Rio Olympics 2016 but don't want to download a single app, Google has got your back. With Google, you have each and every information at your disposal. Be it the schedule of a game, total number of medals won by a country or a player's profile. Google provides all the Rio Olympics 2016 information you will ever need at one place. Want to know how? Read on.
How to get Rio Olympics 2016 updates using Google
Step 1: Tap on the Google search bar located on the homescreen of your Android device and search "rio olympics". The search results will show you a message in bold which reads "Add a shortcut to the Rio 2016 results to your Home screen". Tap on the "Add" button located below the message.
As soon as you tap on the Add button, a shortcut will be placed on your homescreen which looks like a gold medal and is named Rio 2016.
Step 2: Now tap on the Rio 2016 shortcut placed on the homescreen. As soon as you do so, the Google search app will open which will show you different information related to Rio Olympics 2016 in seven different tabs – Overview, Sports, On TV, Schedule, Athletes, Medals, Countries.
As the name suggest, the first tab i.e., the Overview tab will give you an overview of the Rio Olympics 2016 games with information pertaining to events, medal standing and schedule.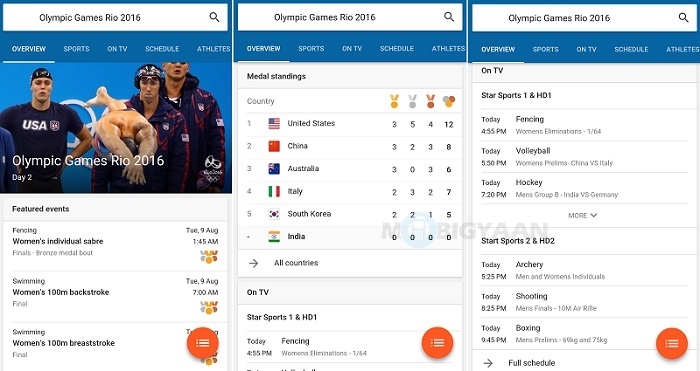 Sports tab: The Sports tab will show you a list of all the sports along with total number of events that each sport has. Tapping on a particular sport will provide you more details like the time at which the event will start along with medal standings in that particular sport. Ongoing events will be labelled Live or In Progress in green.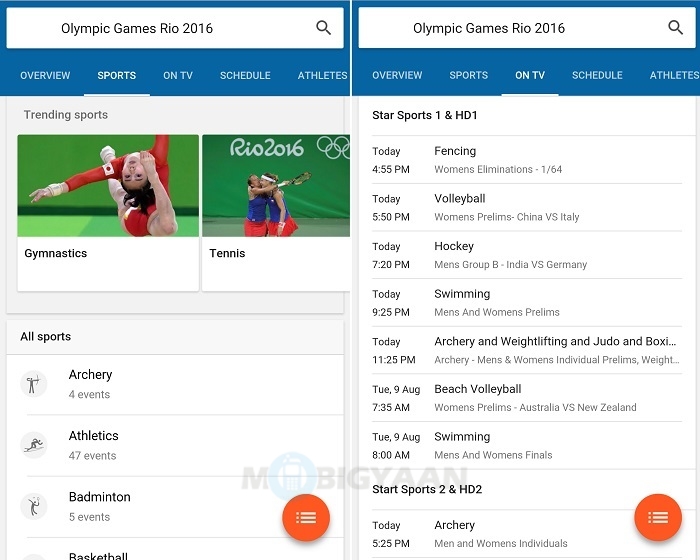 On TV tab: The On TV tab will show information regarding the ongoing and scheduled events that are and will be broadcasted on TV channels.
Schedule Tab: The Schedule tab shows a complete list of all the live, upcoming and completed events. You can also see previous and next day's events, and, can also filter the events by Sport, Country and Stage.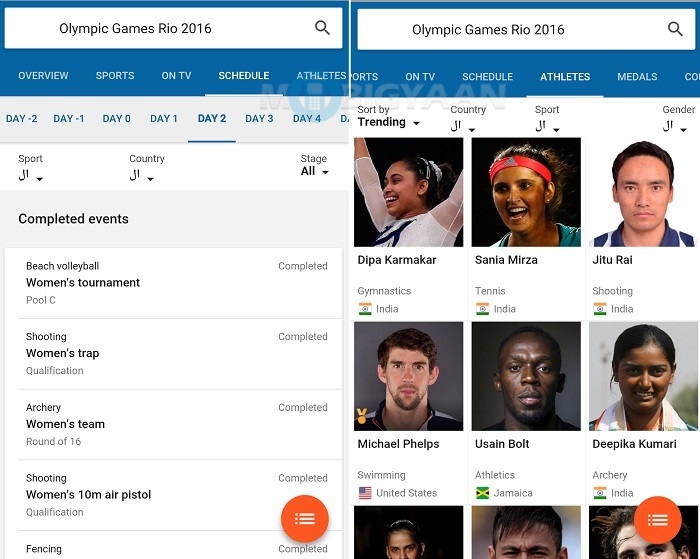 Athletes Tab: The Athletes tab, as the name suggests, provides complete information about all the athletes that have participated in the Rio Olympics 2016 games. You can tap on an athlete's name to see information like the events they have played in as well as the upcoming events in which they will be playing. Google also shows the medals won by the athletes, if any.
Medals tab: The Medals tab shows the medal standings. It shows which country has bagged how much medals, be it Gold, Silver or Bronze. Top medalists are also shown at the end of the list. If you tap on a country, you will get much more detailed information, for example, number of medals won by a country in a particular sport.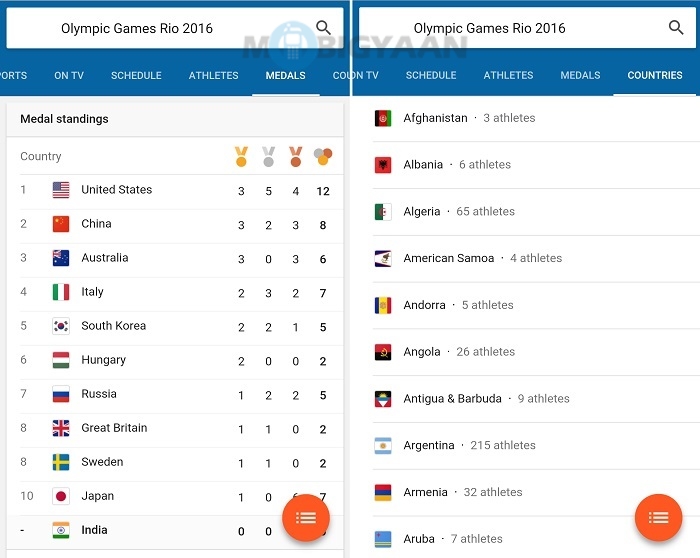 Countries tab: The countries tab provides list of all the countries that have participated in Rio Olympics 2016 games. It also shows the total number of athletes representing a country. If you tap on the name of a specific country, you will be provided with more detailed information.
If you are interested in India's performance in Rio Olympics 2016, you can tap on the red circle located at the bottom right of the screen and then tap on India.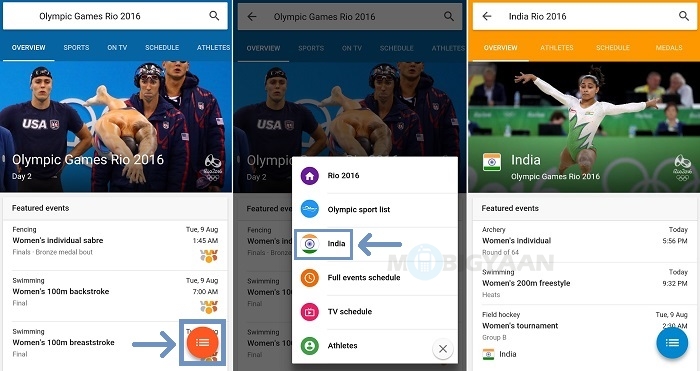 After you tap on India, you will be provided with all the information related to India in Rio Olympics 2016. You will see four tabs – Overview, Athletes, Schedule and Medals. We have already told you what kind of information each tab shows.
While browsing through all the information, you will feel as if you are using an app, but the fact is that Google provides you all this information from within search. Thanks to the interface Google has created, it makes it easy for us to find what we are looking for.
Another thing we found useful is that all the timings were shown to us in Indian Standard Time (because we were using Google India). If you live in some other country, Google will show the timings to you in your local time, saving you from the hassles of converting the time zone in your local time.
We hope this guide will help you stay updated with Rio Olympics 2016 games. If you think we have missed out on something, or, if there's any other app which you prefer, do let us know.
Head on to our 'How-To Guides' section for more.