It is that time of the month when Google releases its report on the current distribution of the Android OSes which are running on the million of devices out there and this is the first time in months when the share of Android 2.3 Gingerbread OS has fallen below the 50% mark.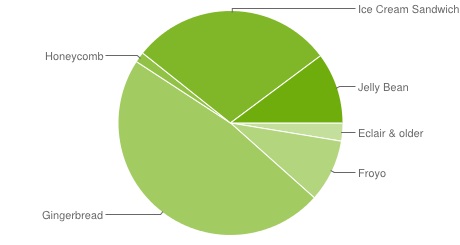 This is indeed a great news because the fall in the share of Gingerbread is due to the increase in devices running on Android 4.0 Ice Cream Sandwich and Android Jelly Bean.
Android 2.3.x Gingerbread's share fell from the 50.8% last month to 47.6% as more and more OEMs are rolling out the upgrade of Android ICS for the older devices and new devices are launched on the OS. Android Ice Cream Sandwich's share has increased to 29.1% from the 27.5% last month.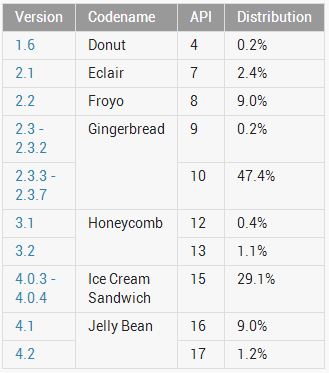 The combined share of Android 4.1 Jelly Bean and JB 4.2 stood at 6.7% last month which has now nearly doubled to 10.2% which is a great news though only 1.2% of those devices run on Android 4.2 JB.

Android 2.2 Froyo is still alive on about 9% of all Android smartphones out there and for the first time, Android 1.5 aka Cupcake is finally resting in peace. The fall in share for Android 2.3.x Gingerbread is expected to continue as more and more devices are launched and also upgraded to Android 4.0 ICS and also Android 4.1 Jelly Bean.