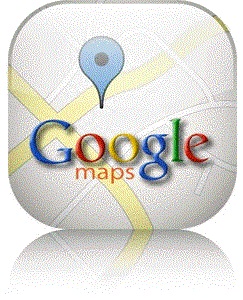 Google Maps 5.8 for Android has been released and there are some new features added to the app. It basically improves Places and Latitude all thanks to the new added features.
The new update brings in the following: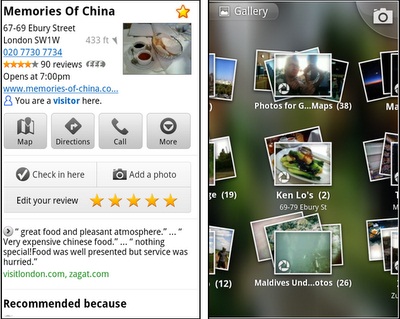 Photo upload for a Place
You can now contribute photos to help others get a sense of places. You can now attach your photos to Places, and yours may even become the profile picture for that page. If you want to view or delete any photos you've contributed to Places, you can manage uploaded photos in the "Photos for Google Maps" album on your Picasa account.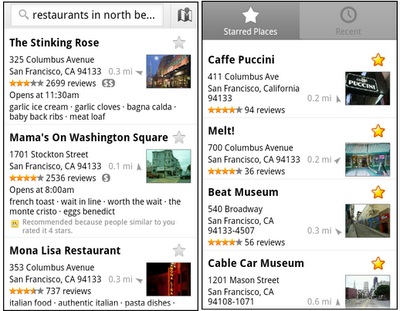 My Places and descriptive terms for mobile
In June Google announced descriptive terms and 'My Places' for the desktop. Both these features are now in Google Maps for mobile. Descriptive terms appear in search results for Places to inform you what businesses are 'known for,' such as their 'eggs benedict' or being 'worth the wait.'
Also, My Places for mobile provides quick access to starred and recent Place pages you've looked at. You can access My Places by pressing your phone's menu button while in Google Maps.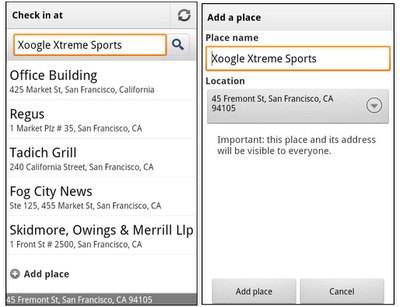 Add a new Place 'on-the-go' for check-ins
If you're out and want to check in, you can quickly add a new Place to check into if one isn't available. This might happen for new businesses or those that haven't set up a Place page yet. For example, let's say you're at Xoogle Xtreme Sports, a new sports shop in your neighbourhood. You go to check in but don't see Xoogle in the list of places to check into and when you do a search still nothing comes up.
You'll now see an "Add place" option at the bottom of suggested places. Select that option and you'll be prompted to confirm the name and location of the new place. Then a brand new place is added (and you're checked in). This place will be available for you and others to check into from Latitude, but will not appear as a search result in Google Maps or Google Places.