Google announced the Huawei made Nexus 6P last year along with the LG made Nexus 5X. Both were announced with Android 6.0 Marshmallow running out of the box. It now seems like a successor to the Nexus 6P is in works.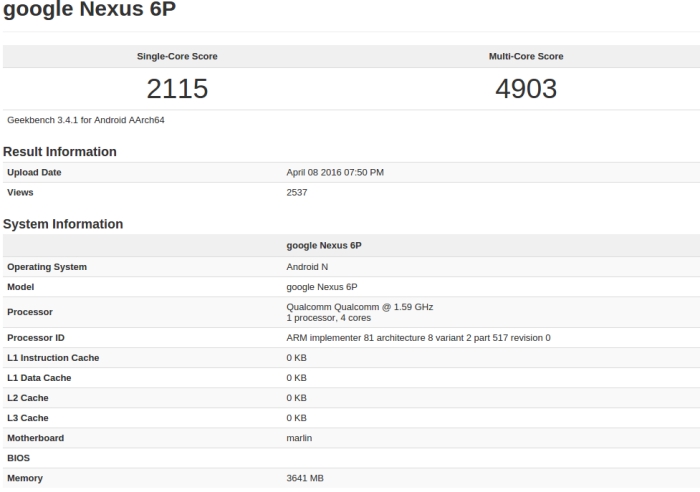 The Nexus 6P that was announced last year is powered by Snapdragon 810 octa-processor and comes with 3 GB RAM. Now, what looks like a successor to the original Nexus 6P has been spotted on Geekbench.
This Nexus 6P is powered by Snapdragon 820 quad-core processor and comes with 4 GB RAM and Adreno 530 GPU. It is running on Android N. However, the motherboard section references to 'marlin' instead of 'msm8996' which is generally seen on devices powered by Snapdragon 820 SoC. This means that these are the specifications of an upcoming Nexus device.
The Snapdragon 820 powered Nexus 6P made a good score on Geekbench. It scored 2115 points in single-core test and 4903 in multi-core test. If Huawei is making a successor to the Nexus 6P, it becomes interesting to see how many Nexus devices will Google announce this year as HTC has reportedly signed a contract with Google to make Nexus phones.