How time passes. It is already two years since the Android Market was re-branded as the Google Play and it appears that Google is getting ready to celebrate its 2nd anniversary. While the company hasn't offered any official confirmation, all the indications are coming up, right on the Google Play Store.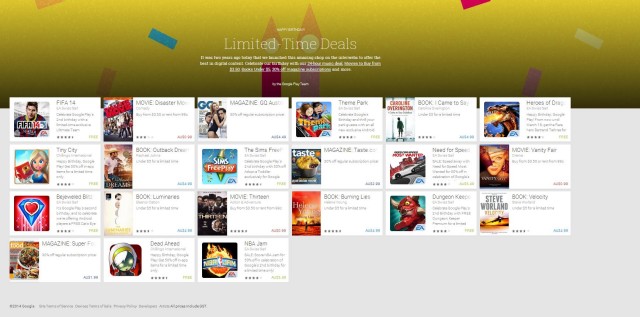 The promo page for Google Play 2nd year anniversary celebrations popped up online for some time, only to disappear later. But some things can still be ascertained from this page; there are many offers which include:
Free FIFA 14
Free Theme Park By EA
Bejeweled Blitz by EA Free
EA Need for Speed at $5.49
Dungeon Keeper by EA free
Disaster Movie at 99 cents
Free Tiny City by Chillingo International
Vanity Fair the Movie at $0.99
30% off on GQ Australia Magazine Subscription
Free EA Heroes of Dragon Age
Taste.com.au magazine issue at $2.99
The Luminaries Book at $4.99
13 – Movie at $0.99
Blurring Lines Book at $4.99
Super Food Ideas Magazine at $1.99
Dead Ahead Game by Chillingo International Free
NBA Jam at $5.49
While most of this stuff is generally available for free only, the difference with the free versions provided by Google is said to be that they will be available with in-app purchases and other stuff free – for example, a free FIFA 14 full version can be totally amazing.
Other deals include a 24 Hour Music deal, Play Books under $5, Play Movies starting at $3.50 and 30 percent off on magazines.
The official date for the celebrations to start is said to be March 6 i.e tomorrow, but nothing can be ascertained until Google issues a confirmation on the Google Play Store, which will be watched intently for any signs of the same.