Back in old days, before smartphones were a thing, we used to take help from local people to find an address. Now, with the advent of smartphones, we rely on Google Maps to help us reach our destination without having to stop-by and get instructions from anyone. However, there are times when a certain address just doesn't show up on Google Maps for myriad reasons. At times like these, we again have to revert to old methods of finding address. Well, not anymore, as Google has introduced Plus Codes on Google Maps in India.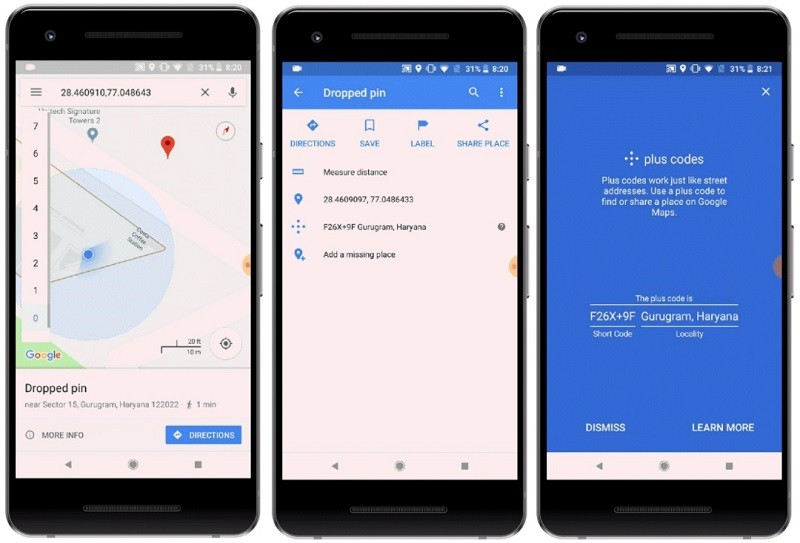 Plus Codes is as Open Source solution that has been developed by the engineers over at Google. And, with Plus Codes in Google Maps, users will now be able to share addresses with people that aren't listed properly, or, haven't been listed at all.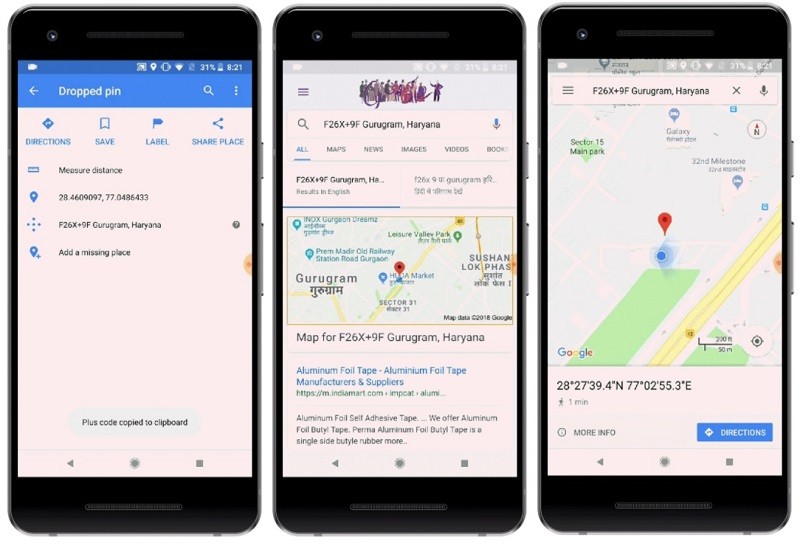 This system works by dividing the geographical surface of Earth into tiny tiled areas that each have a unique code – called Plus Code. This code is in a '6-character + City' format which is generated when a user drops a pin on Google Maps. Once this code, the Plus Code, is generated, you can share it with anyone to help that person find the address easily.
To find an address using a Plus Code, all you have to do is enter that Plus Code into the Search Bar of Google or Google Maps (either desktop or mobile), and you will instantly see the location.
Plus Codes can be used for different reasons like sharing the venue of a place, or, providing directions to emergency services to a place that's too remote or has a very complicated address. We are pretty sure users will come with different use cases once they start using Plus Codes more.
Google also introduced features like 'Add an Address' and 'Smart Address Search' on Google Maps in India
Having said that, apart from introducing Plus Codes on Google Maps in India, Google has also introduced 'Add an Address' feature that lets users add missing addresses to the Maps. Once Google verifies the address, it will become searchable.
Apart from that, Google has also introduced 'Smart Address Search' which uses different pieces of information in an address to help users find the location they are looking for.
Lastly, Google has rolled out support for voice navigation in Maps in six more Indian languages, which include Bengali, Gujarati, Kannada, Telugu, Tamil, and Malayalam. Support for Hindi language was already added three years ago.
Commenting on the introduction of these features, Suren Ruhela, Director, Google Maps Next Billion Users, said, "In India, we know how challenging it can be to reach a given residential address. They are unique in format, and vary across regions, localities, and use cases. While some addresses are well-defined by street names and house numbers that are easy to find, others can be long-winded and hard to locate. The other reality is that millions of people and places in India are hard to locate — especially those in remote areas. We are deeply committed to helping find solutions to these challenges."
Well, I don't know about other features, but I'm looking forward to using the Plus Codes in Google Maps and I hope third-party apps like Ola incorporate this feature soon as it will make it easier for me to navigate the driver to pick-up location in one go.