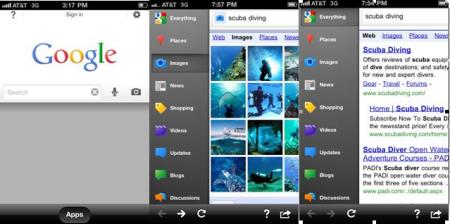 Search Giants Google recently updated their former search application called Google Mobile App for the iPhone and the iPod touch to make it faster and easier to use. The application is now called Google Search App. The noticeable changes include:
The whole application has a new interface and users can interact in more than one way. Users while browsing through results can swipe down and see the search bar or change their settings. There is also an added Apps button that brings out various Google Mobile products. A toolbar for filtering the results has been added to change result filters from web, news, images and places. A swipe gesture can also be used to filter results.
Users can resume their search where they left the application, meaning if a user searched for something and closed the app, the next time when the app is opened it goes back to that last search. A single tap to the search bar starts a new search.
Added features including Google Goggles, Voice Search, Search with My Location, Gmail unread counts and more. Also a help feature to explore the new updated app.