Google in talks with Airtel to Introduce Carrier Billing in Play Store
Have you ever felt helpless when you found that your favorite app in Google Play Store is paid and you can't buy it just because you don't have a Credit Card? We know that feeling. But worry not as its not just you who felt bad at that time but that developers and Google too felt bad for it and guess what, they are taking steps to solve it. In a recent report from Times Of India, Google as taken initiative to start Carrier Billing for apps in Google Play store with help of country's largest mobile operator, Airtel.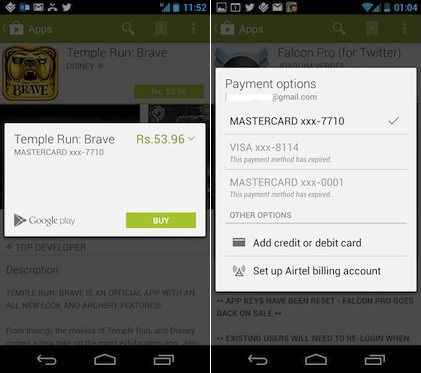 With the implementation of carrier billing, users can pay for digital items such as ebooks, paid apps and in-app purchases through their service provider. This will not only make it easier for users to purchase digital goods but will also increase business of app developers and content creators by significant amount. Currently, Indian mobile users using Android platform, can pay for their purchases from Google Play through credit cards, debit cards or gift cards. This will rather add an easier payment option for those who do not use Credit cards or are not comfortable making digital payments. Nokia had such payment option for its abandoned Symbian Mobile OS from quite a long time where users could purchase apps, wallpapers, etc through carrier billing. Microsoft also announced its plans to launch carrier billing option for its for its Windows phone app store in India after Nokia had become part of Microsoft. Google and Airtel are expected to announce a deal once they agree on revenue sharing and receive regulatory clearance. Hopefully, in future Google will take this plan to others Operators too and not just Airtel.