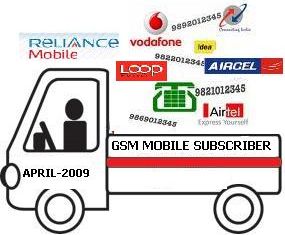 The GSM-based cellular service providers have reported subscriber additions of 8.93mn (excluding the GSM subscribers of Reliance Communications) during April, the Cellular Operators Association of India (COAI) said today. With this, the cumulative All India GSM subscriber base has now grown to 297.7mn in April (excluding RCOM), up from 288.3mn in March, the COAI said.
Growth in C Circle stood at 3.49mn, taking the area's total subscriber base to 400mn, while the B Circle added 13.35mn new subscribers, taking its total to 111.16mn. GSM operators in the A circle saw their total customer base increase by 23.32mn to 104.55mn while the Metro Circle added 8.35mn new subscribers to 41.97mn.
Among the companies, Vodafone Essar added2.77mn new users in April, taking its total base to 71.54mn while market leader Bharti Airtel saw its total base rise by 2.81mn to 96.73mn. Idea Cellular added 1.11mn new customers, boosting its subscriber base to 44.13mn, while Aircel increased its base by over 1.1mn to 19.58mn.
BSNL added 1.03mn new customers, taking its reach to 47.72mn. Loop Mobile added 40,465 new subscribers, taking its total to 2.2mn. MTNL added 45,553 new customers, boosting its total base to 4.22mn.
Bharti Airtel continues to be the top GSM operator in the country, with a market share of 32.49% followed by Vodafone Essar at 24.03%, BSNL at 16.03% and Idea at 14.83%.