Guide : Check Jet Airways Flight Status by SMS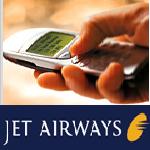 Planning to travel with Jet Airways? Use JetMobile to receive instant flight status, schedules and alerts through SMS or automatically receive flight delay messages. You can also request for your JetPrivilege account details.
Request for instant flight information via SMS
Flight status:
To check for arrival/departure information or to know if your flight is delayed or on-time, simply send a SMS to 56388 in the format as given below:
Set Flight Alerts:
You could also subscribe for flight status information from your mobile and each time there is an update on your flight, you will receive the information via SMS.

To set alerts for same day of travel:
Flight Schedules:

To avail flight schedule:
JetPrivilege account updates:
JetPrivilege is now at your fingertips with our new SMS facility. Get information you need with regard to your JetPrivilege membership account by simply sending an SMS.
With the JetPrivilege SMS facility, you get updates on the following:
To know your JPMiles balance:
SMS alerts will be sent to the mobile number recorded in your membership profile. In case your number has changed, please update your profile on our website or call the JetPrivilege Service Centre at 3989 3333.

Charges for sending SMS to 56388 are as per your operator services