Reselling our old phones is a crude reality that all of us have to face someday. Androids might have been selling like hot pies here in India, but they certainly sell at a lesser price than an iPhone. According to Pricenomics, Androids sell almost as cheap as Blackberrys eventually.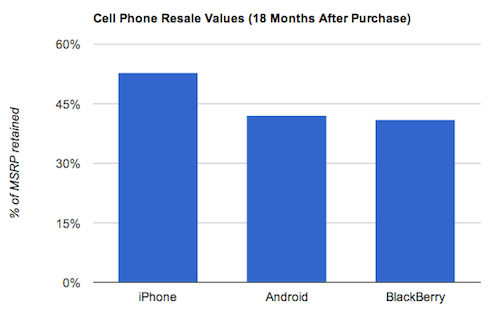 Let's explain by an example. If your phone is an year and a half old, on average you would get around 53% of your iPhone's price, while if you have an Android or a Blackberry, you would just be selling around 42-41 percent of the original price. But, there is good news in there too. Renowned Droids like the Samsung Galaxy S2 or the HTC Sensation can still be sold at 86 percent for a scratchless piece.

There are also some tips while buying an iPhone. For e.g. if you opt for a phone with higher inbuilt memory, it wouldn't affect the resale value much but set you back considerably, when you buy the handset. Also, Pricenomics suggests tat breaking the contract with your career and paying a termination fee is much cheaper than buying an unlocked phone. How that's applicable in Indian market is yet to tested. Feel free to do so though.
While that is what the stats reveal, it's not a big surprise. See, while hundreds of Androids are released in a year, 1 at the most 2 iPhones are expected to be released in the same timeframe.
But do you really think about a phone's resale value when you purchase it?