How about a super-rugged, waterproof and solar powered battery booster case for your iPhone
If you though that the Otterbox case was the ultimate protection for your iPhone, then you are to be proven wrong. Snow Lizard Products have made a unique first of its kind case for the iPhone 4 and 4S that is one heavy duty shell that looks like a battle suit for your smartphone.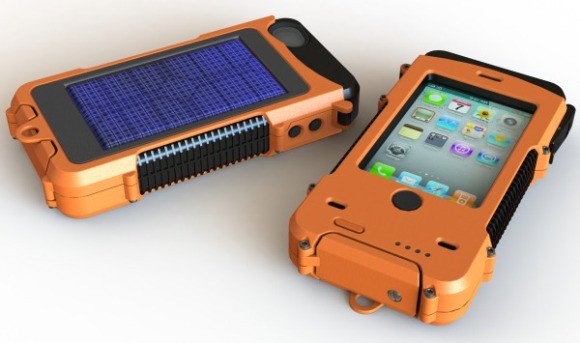 The Aqua Tek S is a rugged, waterproof, battery-powered, solar panel-packing case which makes your iPhone invincible.

The case is so rugged, that you can go for a swim in the water, fight a war, climb a mountain and ski down only to find your iPhone scratch less. The Aqua Tek S is waterproof up to 20 feet and designed to withstand drops, falls and accidental spills, the outer shell is made from tough Poly-carbonate materials with rubber grips for added protection.
It also has a built in battery and solar charger, which means no more running around to charge your phone. If you want to charge or sync data, you can do so by opening the thumb screw and attaching a micro USB to the connector.
All that is missing, is a laser-gun and some torpedos. :D

Features:

Waterproof and dirt resistant design protects your iPhone 4/4S from outdoor elements

Poly-Carbonate, ruggedized casing withstands drops, falls and spills

Lio Polymer Battery and solar charger keeps iPhone powered so users can hike, ski, camp and play longer

Secures and protects the iPhone 4/4S while leaving access to the phones camera, volume buttons, speakers and Multi-touch display

Easily charge and sync the iPhone in the AQUA TEK S by opening the thumb screw and attaching a micro USB to the connector
No word of availability in India, but we hope it makes its way. Check out the video demonstration below.