How and from where to buy Aakash Ubislate Tablet, World's Cheapest Android Tablet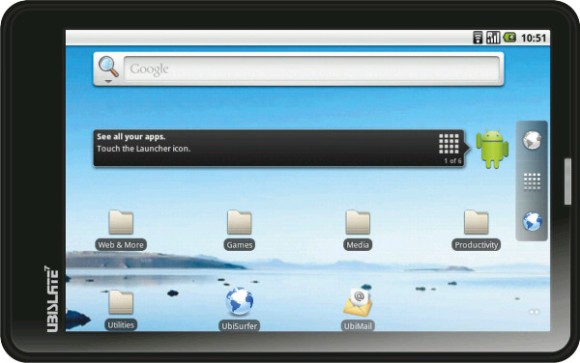 The World's Cheapest Android tablet – Aakash Ubislate was launched recently. The tablet will be available for students at a subsidized price of Rs. 1700, however it's retail price is Rs .2999. The Aaskash Tablet has become a reason of curiosity for many as it is the World's Cheapest Android Tablet. We have tried to collect all the details about the tablet including its specifications, how to buy etc. Read further to know more.

Here are the detailed specs of the device:
Hardware
7-inch 800×480 resistive touch-screen

Rugged casing with a rubberized feel

Wi-Fi enabled (802.11 a/b/g)

Mini and full USB

miniSD card slot

SIM card slot

Video out

Headphone jack

256MB of RAM

2 GB of storage memory, 32 GB Expandable via microSD memory card

2 Watts of power consumption with solar charging option

366 MHz + HD video co-processor

Audio out: 3.5mm jack / Audio in: 3.5mm jack
Android 2.2 operating system

Document Rendering

Supported Document formats: DOC, DOCX, PPT, PPTX, XLS, XLSX, ODT, ODP

Educational software developed at Indian Institute of Technology

Web browsing, video conferencing and word processing software

PDF viewer, Text editor

Multimedia and Image Display

Image viewer supported formats: PNG, JPG, BMP and GIF

Supported audio formats: MP3, AAC, AC3, WAV, WMA

Supported video formats: MPEG2, MPEG4, AVI, FLV

Communication and Internet

Web browser – Standards Compliance: xHTML 1.1 compliant, JavaScript 1.8 compliant

Separate application for online YouTube video

Safety and other standards compliance

CE certification / RoHS certification

150000+ applications
Accessories:
Car charger

External antenna

Keyboard case

Convert it into a laptop
The Aakash Ubislate tablet has not yet reached the market, however you can book one by entering your details over here (aakashtablet.com).
You can also call toll free number 1800-180-2180 for more details.

We will try to get our hands on the Aaskash Ubislate once it is available. What about you, are you planning to buy one?