Smartphones. Everyone nowadays use a smartphone. Be it an expensive one with out of the world camera or a super affordable one which is meant to introduce you to the world of Android. Smartphones get most of the tasks done for us that a full-fledged desktop/laptop computer does.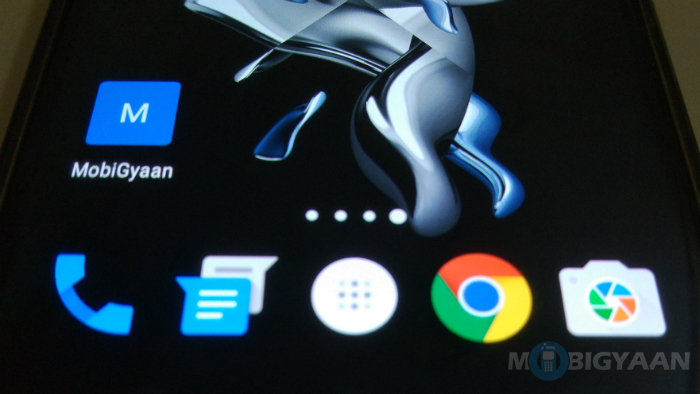 One such thing is letting you surf websites on your smartphone. Full-fledged browsers for computers like Google's Chrome, Mozilla's Firefox and some others made their way in to the smartphones. We can use these browsers to visit the websites we would like to. You can surf on Facebook or go through the How-To guides written on MobiGyaan. Now agreed, there's an app for everything. Similarly, most of the major websites and blogs have an app of their own which makes reading them easier on a smartphone.
However, there are some websites/blogs that don't have an app of their own. And if you read those, you have to open the browser and then type in the url of that website/blog in the address bar. Pretty boring and time consuming. Isn't it? To avoid that, you can add website shortcut on the home screen of your Android smartphone or tablet. How? Read on.
How to add website shortcut on home screen
Step 1: You don't need to download anything extra as Android devices come pre-installed with the Google Chrome browser. 'Open Google Chrome' and 'type the URL' in the address bar of the browser and press enter.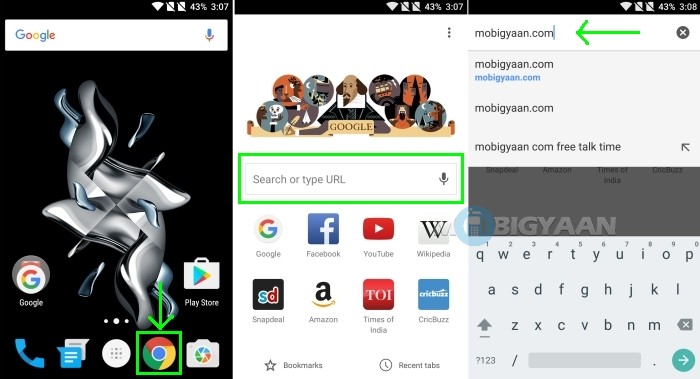 Step 2: I wanted to create a shortcut of MobiGyaan, so I opened 'www.mobigyaan.com'. After the website has opened, tap on the 'three dot menu' button and then select 'Add to Home screen'. By default, Chrome will add the page title as the name for shortcut. But, to keep it simple, we suggest using only the name of the website.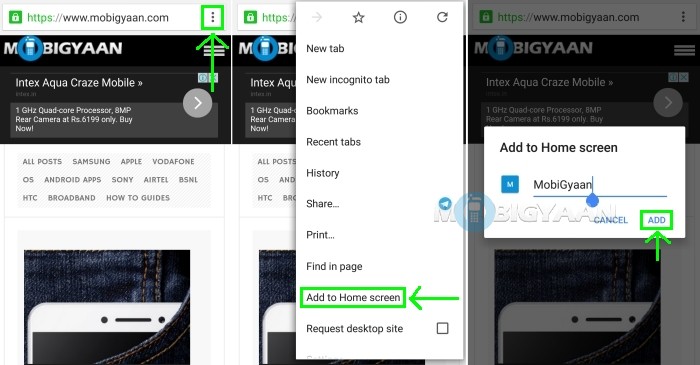 Provide a name to the shortcut and then tap on 'Add'. As soon as you tap on 'Add', you will get a message that your website was added to your home screen.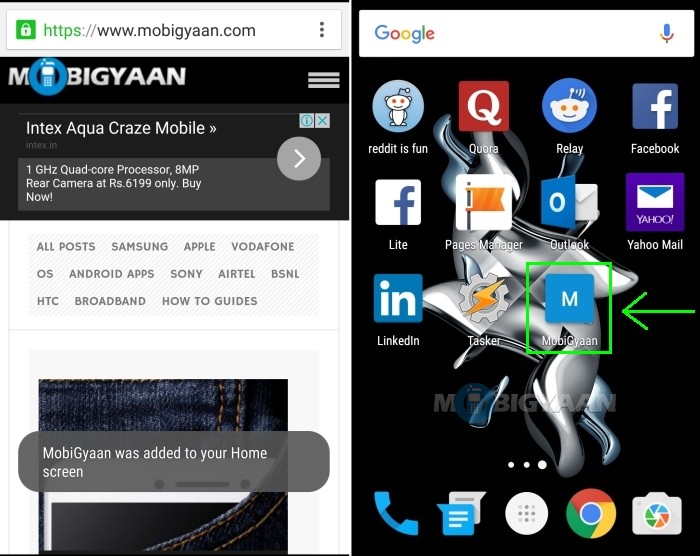 You will find an icon on the home screen which will serve as a shortcut to the website you specified. The name of the website will be written below the icon so that you can recognize it easily.
You can create such shortcuts with other browsers as well, it's not limited to Google Chrome only. We hope you will be able to save whatever little time you can by adding a home screen shortcut of the website you read the most. Don't forget to take a look at our How-To Guides section for more such tutorials.