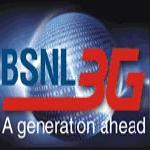 Recently BSNL launched 3G services in Tamil Nadu. BSNL is allowing its customers of 2G post paid and prepaid service to migrate to 3G prepaid/post paid plans of his/her choice free of cost. Customers switching over to 3G prepaid from 2G prepaid will be converted to 3G General Prepaid 120 Plan. These customers can avail the promotional plan /3G prepaid by using the STV 98.It has a free usage of Rs.19 and promotional tariff  plan validity for Rs 365 days. At that time, balance amount will be carried over to his 3G prepaid account and validity restricted to 180 days.

If you are a new customer then you need to buy a SIM which costs Rs. 59 and get it recharged with FRC 120. With this FRC you will get free usage worth Rs. 20. You will be subscribed under Promotional Plan which will enable you to get Free video call for 50 minutes and free data usage of 25 MB for first 2 months from the date of launch of 3G services in Tamil Nadu.

BSNL is also planning to convert its 2G customers having 3G enabled handsets into 3G class.

The customer will remain in 2G plan for Voice and data services.

He will be permitted to make video calls.

This is being done to enable 2G customers to have a feel of 3G services like video calls so that such customers can be induced to become regular 3G customers.

To cater to customers whose requirement in mainly data transfer exclusive data plans are on offer under post paid category.

Data plan customers can make voice call, video calls etc and charges for the same will be as per a separate tariff structure. No extra charges need be paid for the facility.

Prepaid customers can utilise data recharge vouchers to enjoy free data usage.

The charge for data usage is only 1 paisa for every 10KB.

Customers can use the trial pack (of data) to get a feel of the high speed data service to help them decide on whether to subscribe to data plans.  As a promotional offer 6 GB download is allowed free (day time 1GB &  night time 5GB)