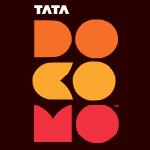 Tata DOCOMO'S Push 4 All Mail service allows its users to receive email text in the form SMS. Besides receiving, users can also reply, forward, compose, delete emails through simple SMS commands. Users with WAP enabled mobile handsets can access mails in WAP interface which also allows viewing of attachments. Apart from these services, users can also filter unwanted notifications. Through this emails  can be received from Hotmail, Yahoo, Gmail, Indiatimes etc.
This Service is available at Rs. 15/month and is auto renewable. Data charge for WAP access are 10p/10kb, for each SMS send users will be charged 50 paise.
How to subscribe for Push 4 All Mail?
Type Sub <email id> <password, in the create message, and send it to 52206. For, eg: type Sub [email protected] red and then send it 52206.
Once you send this message, you will a receive a notification that you have successfully subscribed for Push for All Mail.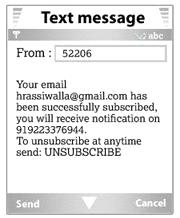 You will now receive emails on your mobile phones. You have to follow a few SMS commands in order to carry out the other transactions.
Here are a few commands,
1. To reply: Type Reply <message> and then send it.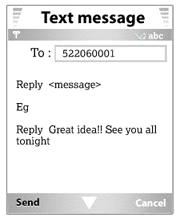 2. To forward: Type Forward <email id>,  <email id> <message> and then send it.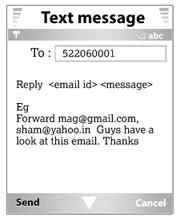 3. To compose: Type <email id> <message> and send it to 52206.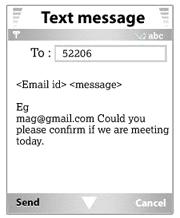 Other Instructions that you may find useful:
1. It isn't really necessary to type the '<' and '>' while typing the messages. Be careful when you type the commands as they are case-sensitive.
2. To get the list of commands type "LIST" and send it to 52206.
3. For any assistance regarding the commands type "HELP" and send it to 52206.
4. If at all you want to unsubscribe for the service then type UNSUBSCRIBE and send it to 52206.