HTC HD2 get unofficial Android 4.1 Jelly Bean port, long live HD2
HTC HD2 is one awesome smartphone. And it is a rule that if there's a new OS in the town, this smartphone is bound to run on it.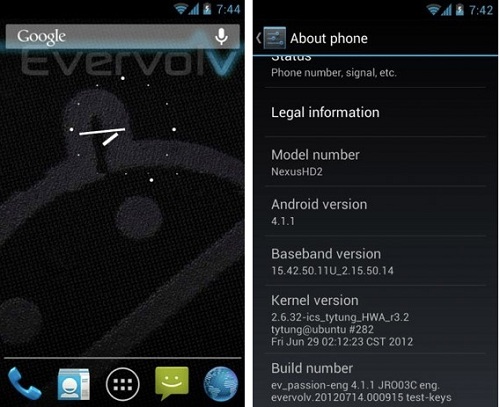 Yes, we have seen the HTC HD2 run various different OSes apart from the Windows Phone 6.5 (Yes it is that old) that the device originally arrives with. And now as the latest OS in the town is the Android 4.1 Jelly Bean, which has been ported to the device too thanks to developer Evervolv.

Now you may be thinking that if a Windows Phone smartphone which is three years old and only has a 1GHz processor can run Android 4.1 Jelly Bean, then any Android smartphone out there can run it too.

Though this port is not in a perfect condition for daily usage, it is indeed an achievement that Jelly Bean at least runs on the ageing phone. For now Mobile Data 3G/2G, Calls, Wi-Fi, Bluetooth, SMS, Sound check download page for fix, Video Playback, USB Mass Storage are in working condition.

But camera is not working, while browser works but display is messed up, there is an error while installing apps and Google Now crashes. But we should also note that this is a pre-alpha release and more development will definitely take place.

And we wish that Google and other OEMs do take a note of this development and decide to bring Android 4.1 Jelly Bean to maximum Android devices out there.