The HTC One (M8) has just been unveiled by HTC and we are impressed with what the device has to offer. To put it this way, we are glad with what the Taiwanese maker has to offer.
There are a lot of cool things with the HTC One (M8), there's the all metal body, new Duo cameras, BoomSound speakers and Sense 6.0. While we will be bringing you hands on images and first impressions of the device, here's everything you need to know about the HTC One (M8). Read on..
Hardware

 
On the hardware front, there are some major improvements with the HTC One (M8) from its predecessor while some things remain similar to the HTC One (2013).
Display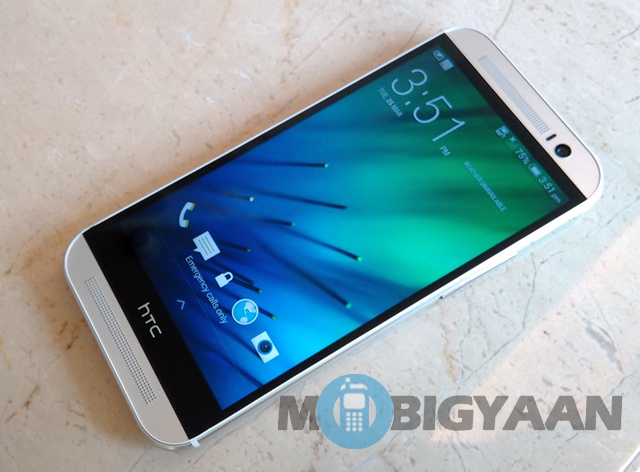 The HTC One (M8) ups the size of the display from its predecessor. The new HTC flagship features a 5-inch SLCD3 display of Full HD (1920x1080p) resolution. There's Corning Gorilla Glass 3 to give the display an added protection from scratches.
At 5-inches, the HTC One (M8) display hits the sweet spot with the current Android flagships and if last year's HTC One is any indication, the display will be quite stunning.
Design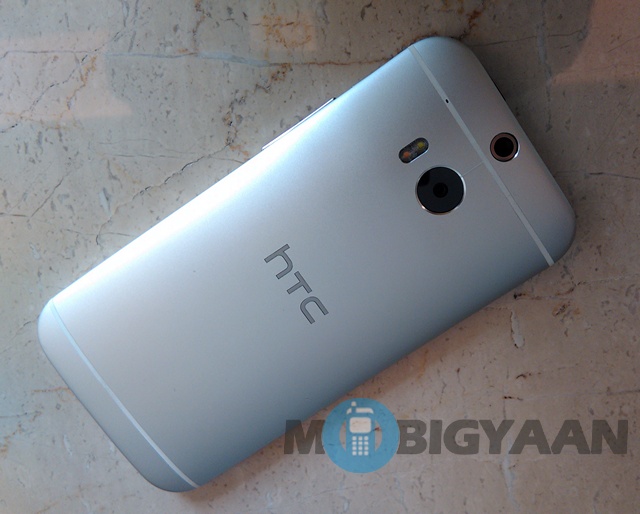 We have known HTC for its brilliantly designed smartphones and well, the HTC One (M8) is a looker, as we expected it to be. The all metal body is great to look at and we're sure it will be great to hold as well. There's a new a hairline texture on the metal body, which makes it look even better. The HTC One (M8) measures at 146 x 70.5 x 9.3mm and it weighs at 160 grams. On the front, there are the two BoomSound stereo speakers as well and HTC claims they are 25% louder.
Camera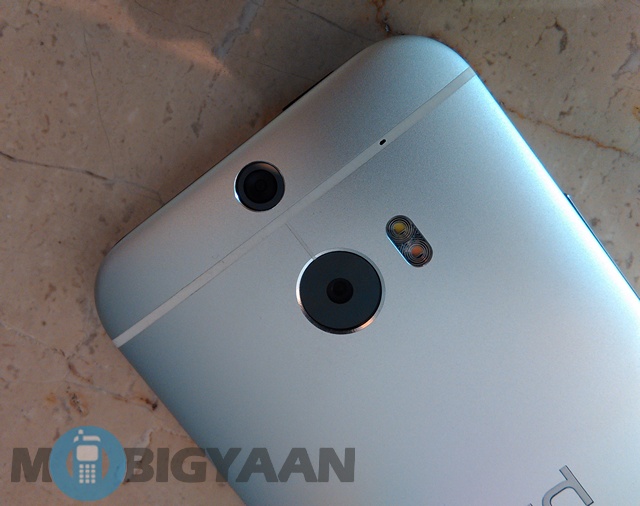 The HTC One (M8) features a new Duo UltraPixel camera. While the megapixel count remains the same for the one camera at 4MP with BSI Sensor, F/2.0 aperture and 28 mm lens, the other camera is a depth focus camera which should allow for better focus. The flash is a dual-tone flash, similar to the iPhone 5s and it is the first Android smartphone to come with the dual color flash. The dual-tone flash should result in better flash lit pictures with better colors. There are a lot of other features in the camera. HTC has also brought about a Refocus feature, similar to what Nokia offers in its Lumia devices.
The front facing camera has also gone through a major upgrade, there's now a 5MP front facing camera and it has the same f/2.0 aperture as the primary Duo Camera unit. It also has a wide angle lens and captures 1080p video and HDR.
Processor
As with Android flagships recently announced, the HTC One (M8) features a Quad-core 2.3/2.5 GHz Snapdragon 801 processor depending on the region coupled with 2 gigs of RAM. We all know that the Snapdragon 801 SoC from Qualcomm is a benchmark king and a powerful performer so no issues here. We can expect the HTC One (M8) to run all smooth and fast. Although we were hoping for 3GB RAM but 2GB RAM shouldn't cause any problems.
Storage
There's two storage options with the new HTC flagship, you can choose between a 16 or 32GB variant. A microSD slot is also present with support for up to 128GB cards. The presence of microSD expansion should be great news for many people, considering previous HTC flagships haven't had it and it is a deal breaker for many people.
Battery
A 2600 mAh battery is present in the HTC One (M8). It is a rather modest upgrade from the HTC One, which featured a 2300 mAh battery. HTC claims that the new HTC One (M8)  lasts 40% longer compared to the HTC One and we hope those claims are true, so that we aren't disappointed. HTC has brought about energy saving modes to get the device more battery life.
Software
The HTC One (M8) comes with the latest Android version, that is Android 4.4 KitKat along with an updated Sense 6.0. While we already know all about Android 4.4 KitKat, in case you don't check out this link to know about it.
Talking about the new Sense version, Sense 6.0, the interface has gone through slight refinements but is still pretty much the same we saw with the previous Sense version. The new Sense version does brings some cool color themes though. There are lot of gestures, you can swipe from any edge of the display to unlock the phone or you can double tap the screen to unlock, just like Nokia Lumias and LG's Knock On.
There are new features that HTC brings with Sense 6.0. BlinkFeed has gone through an update and now features keyword search and more. HTC will also make the BlinkFeed SDK available for developers. There's a new Zoe camera UI, new music player with support for lyrics. FitBit is integrated onto the Sense build. The Sense TV too has received a major update. A new HTC Transfer app is present, which lets you transfer all your data from an iPhone or any other Android device to the HTC One (M8).
Accessories
HTC has launched an official flip cover for the HTC One (M8) dubbed as the Dot View flip cover. It uses the dots to visually present you information such as date and weather.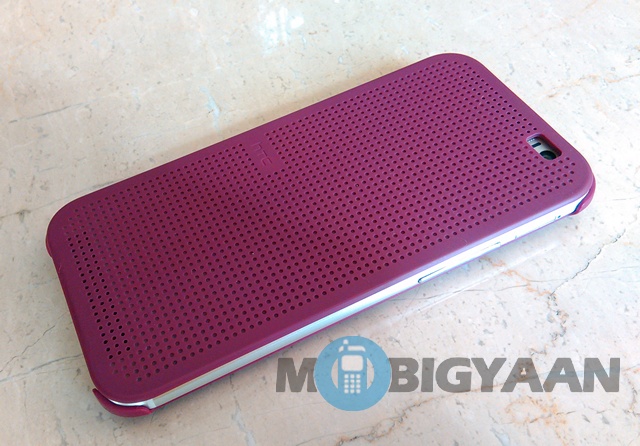 Availability
The device has gone on sale in the US already while the rest of the world will get it next month. India will get the device in the third week of April.
HTC One (M8) Specs
5-inch SLCD3 display
Full HD (1920x1080p) resolution
2.3/2.5 GHz Snapdragon 801 processor
2GB RAM
16/32GB internal storage
microSD expansion
UltraPixel Duo Camera
Dual tone flash
2600 mAh battery
146 x 70.5 x 9.3mm
160 grams weight
Android 4.4 KitKat with Sense 6.0
Stay tuned for more hands-on images of the HTC One (M8).