We first saw Apple do it with Siri. Then Samsung followed with S-Voice. LG jumped in with Quick Voice, and now we see HTC teasing us with its very own voice assistant app.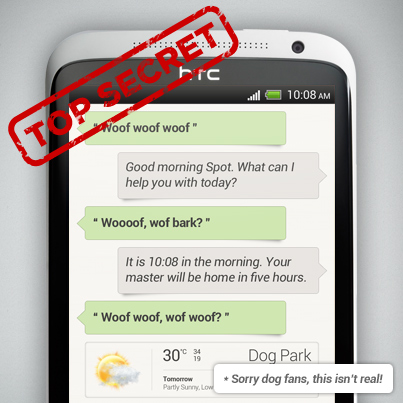 HTC has posted a teaser image today which reveals a possible Siri competitor. The posted image which went onto Facebook and Twitter shows HTC's potential voice assistant app talking to a dog and responding to it.

The image says 'Top Secret' with a dog barking and interacting with the voice assistant app. And at the end there is a small note saying, 'Sorry dog fans, this isn't real'. Of course the app cannot understand dog talk, but HTC wants to make one thing clear, there is an app coming from the manufacturer which will be responding to your queries.
Let's wait and watch what HTC has in store for us, and also hope it can live up to the expectations of apps like Siri and S-Voice.