The Consumer Electronics Show (CES) has always been in the limelight for the biggest names in the electronic world unveiling their products here. On such a huge platform to launch products, the Chinese player, Huawei has also marked its first big move with the unveiling of its new smartphone or rather known as Phablet, Huawei Ascend Mate, which carries a revolutionary screen measuring 6.1-inch.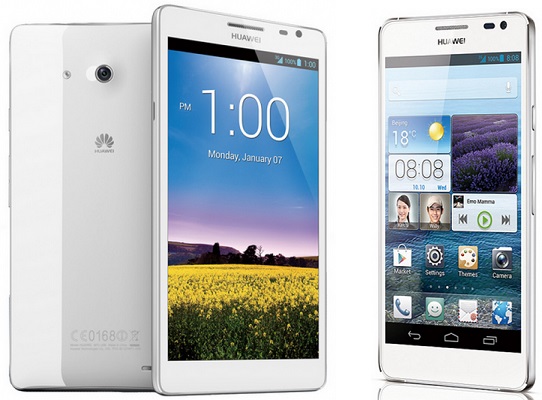 It's been reported that the company has announced the device as one of the only kind in its likes of

phablets

, as it hosts a display as big as 6.1-inch which has never been seen before.
Along with a huge IPS+ LCD display offering a 720p HD resolution, the device carries a myriad of features including a 1.4GHz quad-core processor and an 8.0-megapixel Autofocus camera at the rear with LED Flash coupled with a 1 MP Front facing camera for video calls. The beast is powered by Android 4.1.
 
Despite supporting HD, the resolution it offers does not seem to be exceptionally impressive considering the size of display screen it carries. Talking about the dimensions, the device comes slim with thickness measuring 6.5mm, however seems to be on the heavier side with 192g weight. Moreover, the device is stated to be a tough in the frame and will come waterproof. The 6.1-inch beast will be powered by a whopping 4050 mAh battery.
 
Apart from this eye-popper, Huawei has also revealed another

phablet

with a relatively small screen. The Huawei Ascend D2 comes with a 5.0-inch screen and will run on the latest version of Android 4.1.2 Jelly Bean OS. The display on the D2 will offer a full 1080p HD resolution, with a pixel density of 443.
 
For powering up the performance, it houses a 1.5GHz quad-core processor. Besides, this will also feature a 13.0-megapixel camera and gets all its juice from a powerful 3000 mAh battery.
 
Huawei will make the Ascend Mate available in Crystal Black and Pure White color options and will be on sale in China in February 2013 while the Huawei Ascend D2 will be on sale in China in January 2013, and in Japan in the future. With the brand being in controversy in the US, it is yet to confirm its launch in the market there. To the Indian consumers, we suggest to wait and watch for the device to expectedly reach Indian shores in the next quarter.