Through a partnership with Leica (a German optics manufacturer and famed photography brand), HUAWEI P9 camera packs a unique 12 MP f/2.2 dual lens with a Leica Summarit H ASPH 27 mm lens. P9 is better known for its dual Leica camera, and perhaps it could be P9's signature feature.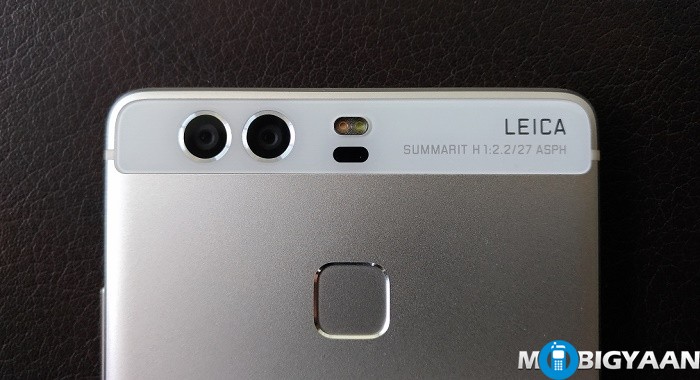 Dual lens setup isn't common, but soon every other smartphone will follow the footprints of the dual camera phones. As far as I remember, the 2016 smartphones like HUAWEI P9, LG G5, and the new Apple iPhone 7 Plus have dual cameras, but what makes a difference here is each can perform its own sort of unique functions. It's not about the two cameras but it's all about how both cameras function.
If you see, G5 emphasizes one wide-angle camera, while iPhone 7 Plus uses a term called telephoto for its dual camera. HUAWEI P9 has two cameras in which one uses an RGB sensor for capturing accurate colors and other uses Monochrome sensor for capturing details in a black and white/gray image. Plus, HUAWEI P9 offers a DSLR-grade photographic experience with its shallow depth of field.
The camera has a number of options like Monochrome, HDR, Pro Mode and many others. Speaking more about the Monochrome feature, it captures better black and white images with ample amount of detailing. We thought to capture some Monochrome samples from P9, do check the samples added below.
HUAWEI P9 Camera – Monochrome Samples
Huawei says the Monochrome camera can process 200% faster than RGB camera. That means it can captures enough details effectively. P9 should be able to snap the scenes pretty fair and quick. As a result, the Monochrome lens handles the highlights and shadows of the image in detail.
To capture Monochrome images, just swipe through the camera interface and select the Monochrome mode. The best thing I find here when using Monochrome is, you can also use the pro features of the camera i.e. you cannot change the ISO, Shutter Speed, Exposure, and Manual Focus.
The camera also simulates various types of color options. The color three options are – Standard, Vivid colors and Smooth colors. In addition, it can simulate the Depth of Field images in which you can refocus the object and change the focal length after capture.
Do check out our the HUAWEI P9 review.