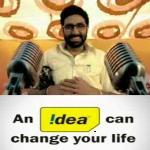 IDEA Cellular has announced  daily packs for its nearly 30 lakh subscribers in Delhi & NCR region. The new daily packs come allows Idea prepaid customers to choose from an array of services such as Idea to Idea night calling, Free Local/STD minutes and SMS & GPRS offerings.
Idea has launched three new Daily Packs which offer 11 minutes of free calling (Local & STD); Free 60 minutes of local Idea night calling (11 pm to 8 am); and a pack which allows the young users to send free 125 SMS' nationally or locally everyday. Each of the 3 offerings on Idea Daily Packs will be charged at just Rs. 5 per day.
To avail the range of daily packs Idea prepaid subscriber need to dial Dial *369# and choose any one or multiple packs from the menu of attractive offers. Rs. 5 will be deducted from the main balance and benefit validity will be for 1 day for Local/STD and SMS pack, and 2 days in the case of Night calling pack
Idea has also launched a daily GPRS pack which offers upto 50 MB of free internet usage at just Rs. 5 per day.  For high users, Idea has introduced a GPRS pack offering upto 150 MB of internet usage valid for 3 days with a nominal charge of Rs. 13; and upto 2 GB usage with Rs. 98 pack for a period of one month. Charges of 2 paise/ KB will applicable, post free usage limit.