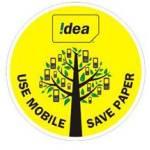 IDEA Cellular's green campaign has made people think about newer, greener ideas to 'Use Mobile, Save Paper'. IDEA has embarked upon a major drive to mobilize innovative ways to spread the green message through a complete 360 degree media campaign.

To demonstrate such unique ideas, IDEA Cellular is giving Mumbaikars and Delhiites, the chance to experience a day when they can use their mobile phones for paying road toll and to watch a movie, thus doing away with the paper toll tickets. IDEA has come up with a new campaign on Radio urging people to participate in a simple SMS contest which will entitle them to a Code (via SMS) which can then be flashed as their "Mobile ticket" to travel on the Bandra-Worli Sea Link in Mumbai, and the Delhi Noida Direct flyover.

The first 4,000 people in Mumbai, who SMS 'Idea sealink' to 58888 and show interest in the initiative will receive a thank you SMS which will enable them to travel absolutely free and ticket less on a single journey, either way, on the Bandra Worli Sea link on Thursday, 25th February between 8 am to 12 noon. Addtionally, 200 people who SMS 'Idea movie' to 58888 will win free tickets to the screening of movie 'Karthik calling Karthik' at PVR Cinemas on Thursday, February 25, 2010.

In Delhi, people can SMS 'Idea Toll' to get a free single journey on the DND flyover on 2nd March, between 8 am to 12 noon and 'Idea Film' to get fee m-tickets for the screening of 'Karthik calling Karthik' at PVR Cinemas, Saket on Friday, 26th February.

IDEA has also partnered with leading coffee chains – Barista and Café Coffee Day – in these two cities, to introduce mobile menu and mobile bill at their outlets, enabling large number of coffee lovers to contribute towards the cause of saving the tree by saving paper, by not using paper menu and paper bills.