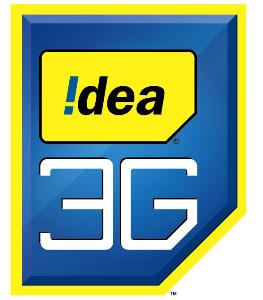 Idea Cellular has launched its 3G service at fast pace. Covering various parts of the country, they will be providing high-end data services such as Video Conferencing, IdeaMall Application Store, Mobile TV, Video on Demand, and high-speed Internet Browsing. Idea has also started its app store called the IdeaMall, which will offer an entire catalogue of games and applications on Web & Mobile platforms.  Idea has also introduced Time based Billing plan for 3G services enabling users to avail high-end data services without worrying about the volume of usage. To promote usage, Idea has introduced 'sachet' pricing offering attractive trial packages with per day billing.
Idea 3G is now available in Haryana which include the major cities like Ambala, Hissar, Rewari, Rohtak, Panipat, Bhiwani, Jhajjar and Hansi. It is expected to grow and cover 24 towns by April 2011 and over 230 towns by the end of financial year of 2012.
The services have also spread to West Uttar Pradesh and Uttarakhand covering Agra, Meerut, Muzaffarnagar, Roorkee, Saharanpur, Kashipur, Dehradun, Haridwar and Rudrapur. Starting with 9 towns in UP West and Uttarakhand, Idea's 3G services will grow and cover 140 towns by midyear and 310 towns by the end of financial year of 2012.
People of Maharashtra will also enjoy the 3G services of Idea as they have launched the service in Pune, Nasik and Nagpur, and is expected to cover 400 towns by midyear, and over 750 towns by the end of financial year of 2012.
Idea is planning to cover 200 towns by mid April '11, which is about 10 towns per day to cover 750 towns by mid 2011, and 4,000 towns by the end of financial year of 2012. Currently only 10% of Idea's over 86 million subscribers are said to be using 3G enabled handsets and it is expected that these users will be the early adopters of 3G services.
For tariff details, click here.