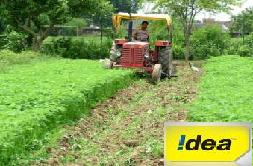 IDEA Cellular  has announced the launch of a product targeted at rural consumers in the agricultural belt of Uttar Pradesh East. IDEA's latest offering – Krishi Vani – is designed to cater to the daily needs of the Farmer community in the region.
IDEA Krishi Vani will offer agriculture related information like best farming practices, soil testing, soil improvement, optimum crop cycles, required fertilizers and pesticides, livelihood as well as Climate/weather information. Updates such as Mandi crop prices from nearest Mandi will also be available to IDEA subscribers who avail this service in Uttar Pradesh East.
IDEA customers interested in availing this service can call 55456060 to activate the Krishi Vani pack. The rural pack is available on voice with feature of SMS alert. For a subscription fee of Rs. 30 per month i.e. Re 1 per day, the user will get access to actual content on voice, following which, the application will also send SMS with relevant information sought by the user.