Many people buy a smartphone with low storage options just to end up with a full storage loaded with numerous pictures, videos, and other data. The only way to increase internal storage on Android smartphones is to remove the unnecessary files they don't require unless the phone supports an expandable memory slot that expands the storage seamlessly. But that further needs a memory card which needs to be purchased separately. When you use the phone's camera to capture images and videos, the storage fills up quickly and you feel like you could have bought a higher storage capacity smartphone. But fret not because I have found out a few tips to increase internal storage on Android. Here they are: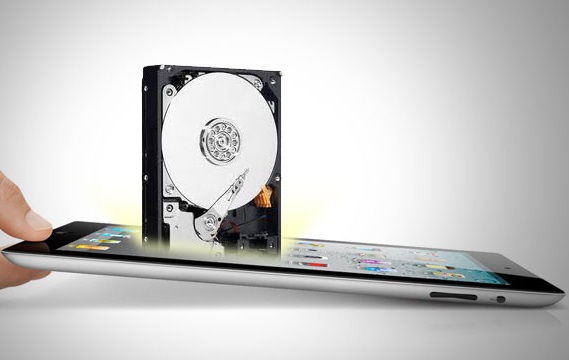 How to increase Internal Storage on Android
If you are running out of internal storage space, consider a smartphone with higher storage capacity. A memory card will give you an advantage if your phone supports it. Otherwise, these 5 tips will help you out.
Clear Cached Files
Removing cache files is a smart move. I personally do not do it unless my phone's storage is on low. My phone has 16 GB internal storage with no expandable memory card option. Keeping the cache files will definitely speed up the apps, but removing it will give you a small amount of storage back. For example, the thumbnails on the gallery you see are stored on your phone's internal storage. Other apps like SoundCloud will save the music in a cache directory to play offline. In such cases, you can get back the used memory. So, how do you clear cache files on your smartphone? It's simple, go
It's simple, go Settings -> Storage and tap on Cache. You will be asked to clear the cache data by a popup. This will clear cached data of all the apps. Hit OK.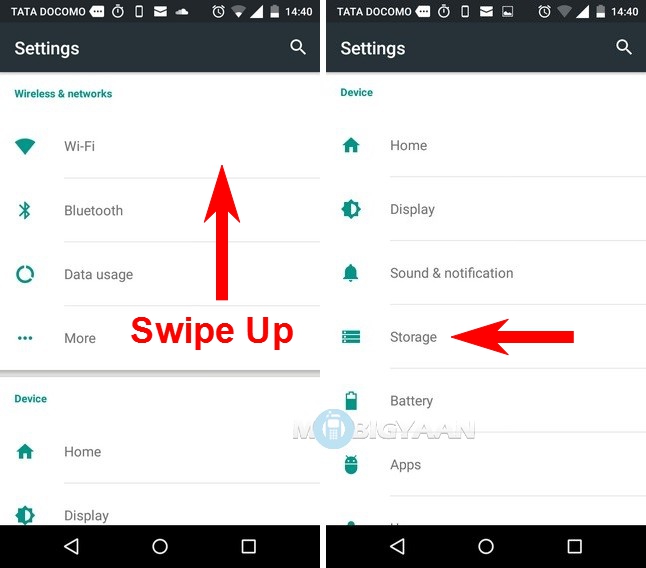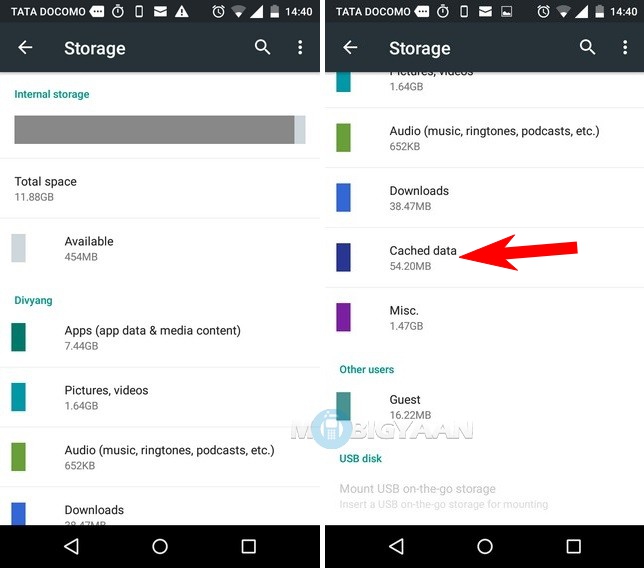 Uninstall Large/Unnecessary Apps
This tip particularly points out to the large games that are installed on your smartphone. The games take a large amount of storage followed by the media gallery. Installing so many apps will also fill up the internal storage. Uninstall apps that you do not want and you can increase internal storage on Android.
The same can be done as guided in the above tip. Yes, Settings -> Storage and tap on the Apps (app data & media content). There will be a list of apps which are sorted in higher to lower order in size. Tap on the apps that you wish to uninstall from the phone.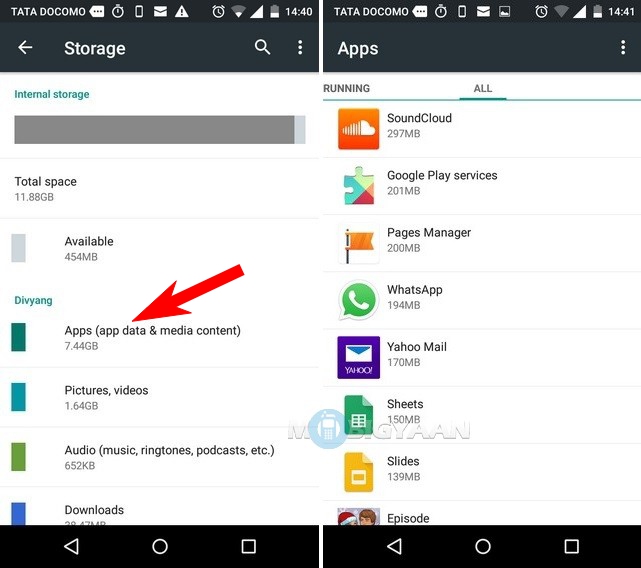 Remove Media Files
Media files such as videos and images that are captured by the phone's camera and the files that you have either transferred using the USB or Bluetooth can take up a chunk of storage space on your Android. Open gallery or file manager, find the unwanted files and remove them from the device. You can safely remove your music playlists to get more space.
A small tip is you can take a backup of your gallery or music to another storage preferably on external storage devices such as a thumb drive or a portable hard disk. I usually do that, every month I take backups of my phone storage so that I never run out of the storage space.
Use a Cloud storage
Using cloud storage such as Google Drive or Dropbox is beneficial. If you have too many photos and videos on your phone, then you can upload them on cloud storage. Do not worry about manual uploads because the cloud apps take care of uploading your media files automatically. What you need is to get a cloud storage app on your smartphone and purchase the desired storage. You can opt to use it for free which gives you a small amount of storage. An example would be Google Drive giving 15 GB of free storage for a lifetime. I recommend Google Drive if your data is under 15 GB. Other cloud services are offered by Microsoft's OneDrive, DropBox, etc.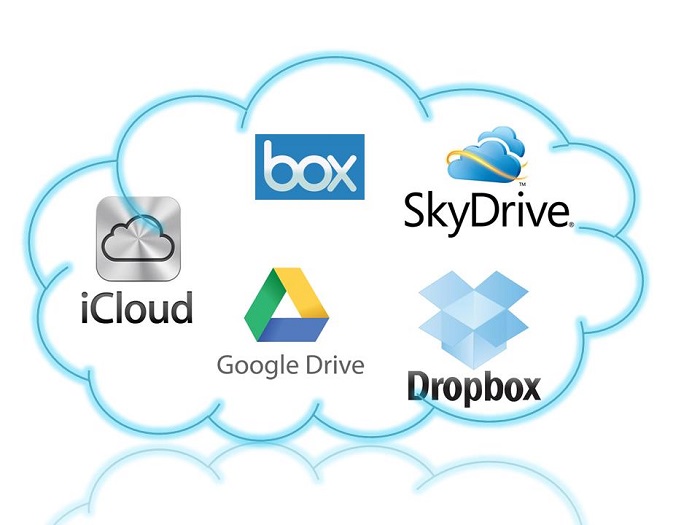 Clear Data on Apps
Last but not the least, clearing data will save a ton of storage space. Why it is worthy because apps do take some storage after you regularly use it. Facebook and Messenger are the two famous apps that do it very well. They take up random space by caching the files. What I mean is while you surf on the Facebook app, it keeps some offline data on storage. So clearing the data from the settings will clear that cache too.
"Hey wait a minute, you previously told to clear the cache, won't it clear the Facebook cache as well?". Some apps keep the cache which Android cannot remove it since the cache is marked as important by the app. In this case, 'Clear Data' option from the app settings will help you out.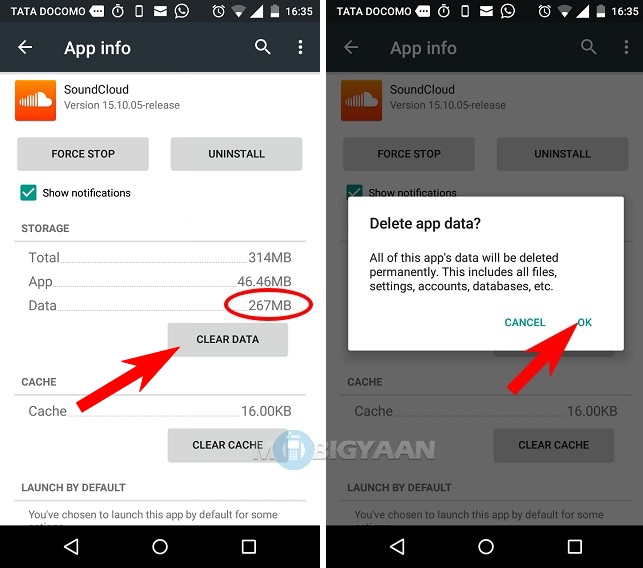 Please note that clearing it will wipe all the data stored inside the app. Once you clear the data, the app will simply start from the beginning like you have installed it as a fresh app. All the settings and the data on the app will be lost. In my case, I cleared the SoundCloud data as it's an online streaming app and I won't lose any precious data.
Well, that's all for now. If you have any more ways to increase storage on Android, share with us under the comments. We have even more guides like this here on our How-To Guides.