India's first ICS tablet, Auxus costs just Rs. 10,000, arriving in March
Amongst all the tablet war going on between the tech-giants, there are a few tablets which steal your heart just by the price tags. And there are loads and loads of Indian Android tablets which are under Rs. 10,000 and offer quite a nice experience and affordability to users too. And joining the gang is going to be India's first Android 4.0 Ice Cream Sandwich running Auxus AX02.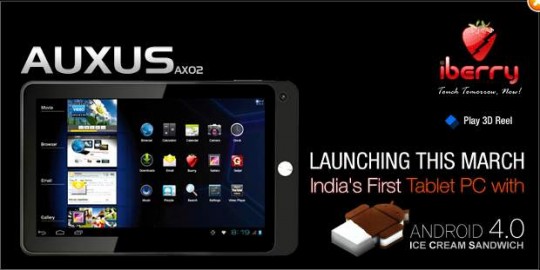 Manufactured by Chennai based company called iBerry, the Auxus will be priced just around Rs. 10,000 and has decent specs onboard. The 7 inch tablet will have an 800×480 resolution, runs on a 1GHz processor with 1GB of DDR2 RAM, and you get a capacitive screen and not resistive (major plus point). The tablet will have a microSD slot which will help its users to expand storage by up to 32GB.


The Auxus will also have a miniUSB output which will not only charge the device, but also support external flash storage and also support 3G modems for 3G connectivity.
The Auxus is expected to reach market in March 2012 and users will be able to buy it online and at a retail store. Also the tablet comes with a 1 year comprehensive warranty and onsite pickup too. So, if the device does not work fine by any chance, users can call up iBerry and the company will arrange a pickup from your place and repair the tablet for any faults and also deliver it to you. So this is indeed a very cool warranty that you get with the tablet. Interesting enough, now let's wait for it to arrive in March.

So does this tablet impress you? Let us know in the comments below.