Intagram has become one of the most popular social platforms among the people yet they may not be familiar with a few Instagram features or Instagram tips and tricks. For starters, you should know them because it makes the interaction and overall experience easier. Even if you are an Instagram freak, we suggest you to take a look at our Instagram tips and tricks.
5 Instagram tips and tricks if you are a newbie
Here are the 5 Instagram tips and tricks you should know if you are a beginner. Before proceeding, update your Instagram app to the latest version from the Google Play store (Android) or App Store (iPhone) to avail these features.
1) Peek and Pop Preview Posts
If you don't remember what is Peek and Pop then I guess you don't have an iPhone 6S. Remember when iPhone 6S was launched with 3D touch features, this is where Instagram added a functionality for iPhone 6S users to Peek and Pop the posts. 3D touch works like a secondary touch, the harder you press, you get different ways to interact. Albeit, Android's don't have a 3D touch display as of now, the same functionality was added later by Instagram on Android platform.
So, how to Peek and Pop on Instagram? It is really easy, just tap and hold the thumbnail of any post and see a popup preview on the screen without actually opening the post. The can be an image or a video. The moment you release the touch, the popup disappears. What else you can do with Peek and Pop feature, you can also like the post by swiping the touched finger to the heart. Moreover, you can comment on that post or share if you like from the preview. This can speed up the interaction considerably rather than opening all the post and liking it and then press back button.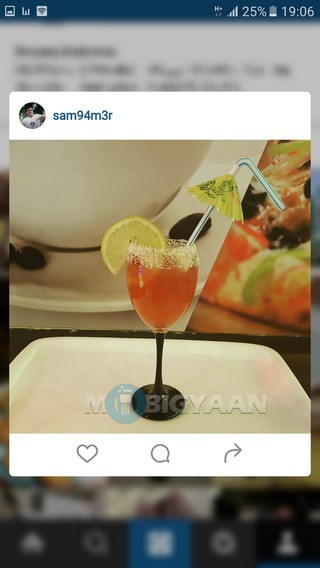 2) Preview Original Photo After Edited
Ever wonder how was the original photo looking after an edit. When you use Instagram filters, you also want to look the original photo and so this trick will simply help you discover how well the photo was edited with that particular filter.
To do that, just press and hold the image when applying Instagram filters. You will get a preview of the original image. When you lift the finger, your edited image comes back and you can continue to post your edited image. As easy as that, eh?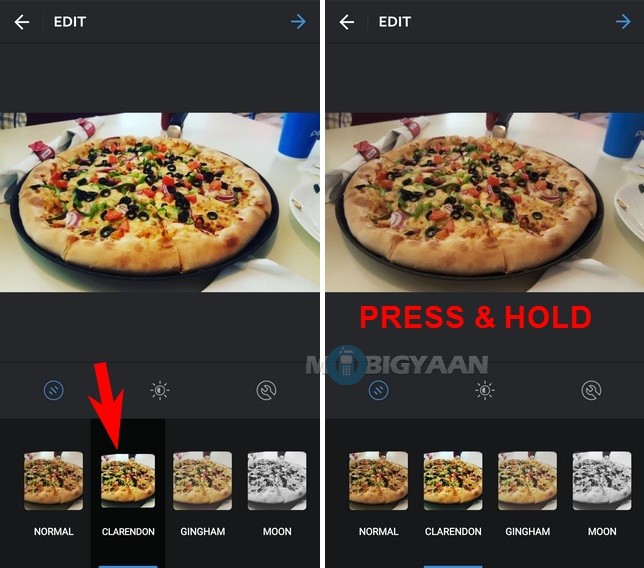 3) Go To Camera Roll Instantly
With this third Instagram trick in my mind, you can open the gallery and pick an existing image without opening the camera. There are times you aren't on the go and you want to post an existing image saved inside the gallery. Perhaps, you want to share an image taken years ago, be it your childhood photo or any other. Instead of opening the camera button to go to the gallery, you can directly access the gallery without opening the camera. To do that, tap and hold the camera button available at the center on the Instagram app. You can select the photos from the Gallery that just opened.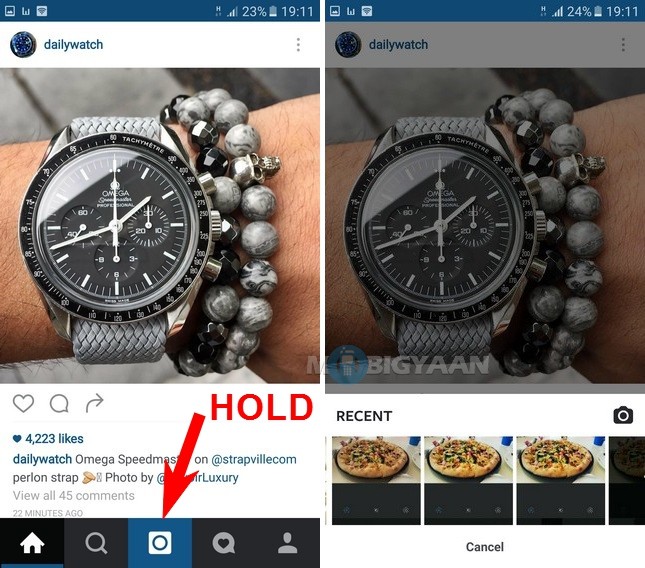 4) Get Notifications From Your Favourite People
Is that the celebrity you like the most on Instagram? Do you want to get all the posts of your favourite person? There is an option in Instagram that sends you a notification of the post. Now you can select people you follow to get notifications on your phone every time they post a photo or a video. All you've to do is just turn the notifications when you visit their profile using the three dots on top. We have shown you in the screenshot below.
It can be done when you are surfing the Instagram Home too. Tap the three dots alongside the username you see and select Turn on post notifications from the available options. The next time those people post any update on Instagram, you will be notified.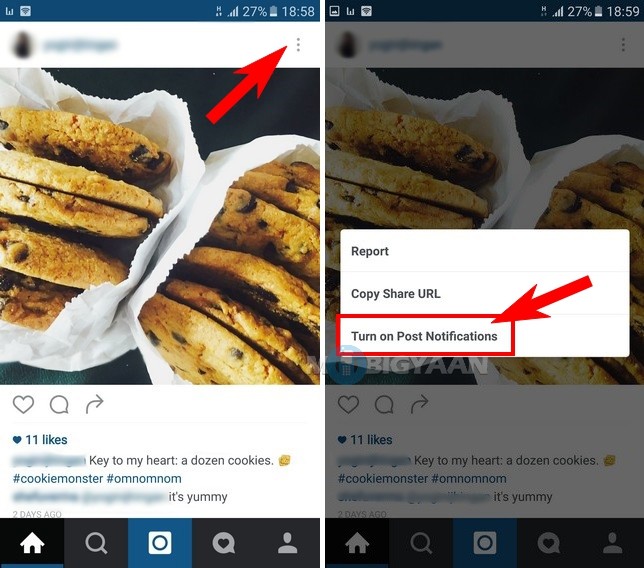 5) Share Instagram Photos To Facebook, Twitter, Flickr, and Tumblr
If you love Instagram and you post dozens of photos, then you might want to post it on your other networks too. But, instead of posting the photo again on other social networks, why not just share from Instagram itself. It will save you a lot. Instagram supports four major photo sharing networks. They are Facebook, Twitter, Flickr, and Tumblr.
How do I share Instagram photos over Facebook or other social networks? It's a no-brainer Tap the three dots on the top-right corner of the post and select Share.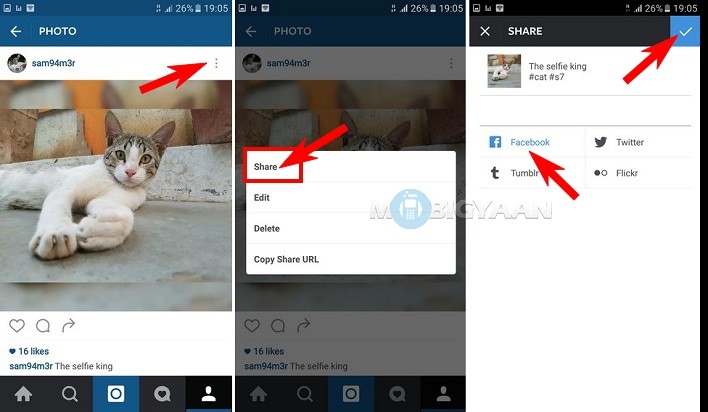 That was it. If you know any other Instagram tips and tricks, share with us in the comments. Visit How-To Guides if you like this post.