Ever wanted to get iOS look on your Android? It can be done with iPhone launcher apps available on Google Play Store. Android has the versatility of customizing the homescreen to anything with the launcher apps and theme apps. For those people who likes the iPhone's interface but can't afford an iPhone, with Android, they can get it on their Android device's homescreen. If you are just bored with the regular Android user interface, trying out a new look can be a change for you. We have gathered some of the coolest iPhone launcher apps for you and the best thing is, guess what? They are all free. Let's move to the 5 coolest iPhone launcher apps for your Android smartphone or tablet.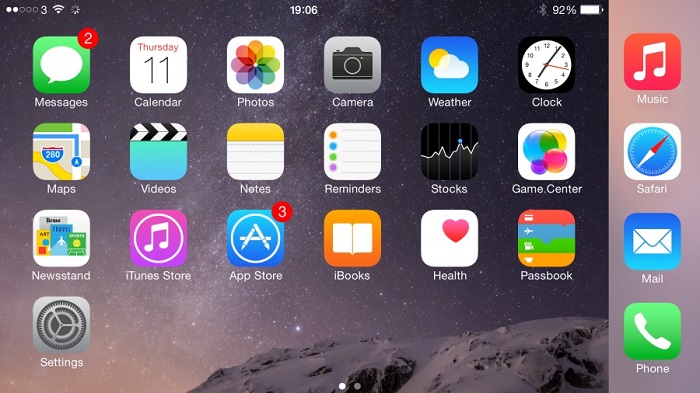 5 coolest iPhone launcher apps for Android devices
Here, you will find the 5 best iPhone launchers for Android and once you install it on your device, it looks and feels like you are using a real iPhone. Enjoy the look and feel of the Apple's iPhone on your Android device. There are 5 launchers for your Android turns your Android device's homescreen like an iPhone. Try them one by one if you like them all or the one you like the most. Here they are:
CleanUI
CleanUI has one of the coolest iPhone interface having flat-style icons giving your Android device an elegant look. It makes your device's homescreen with iPhone-lookalike icons and other visuals like the notification bar, the control center, the lock screen as well as the dialer and the contact.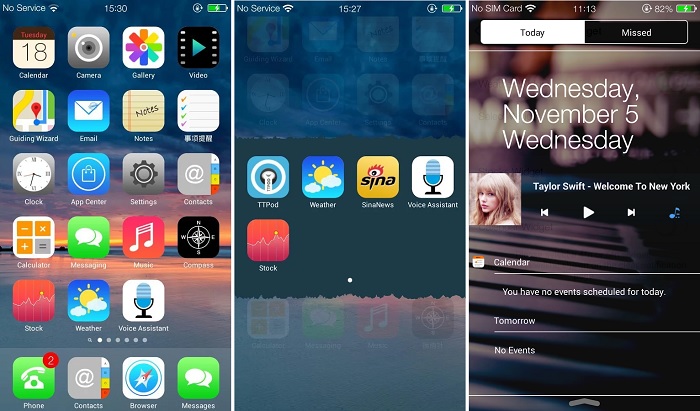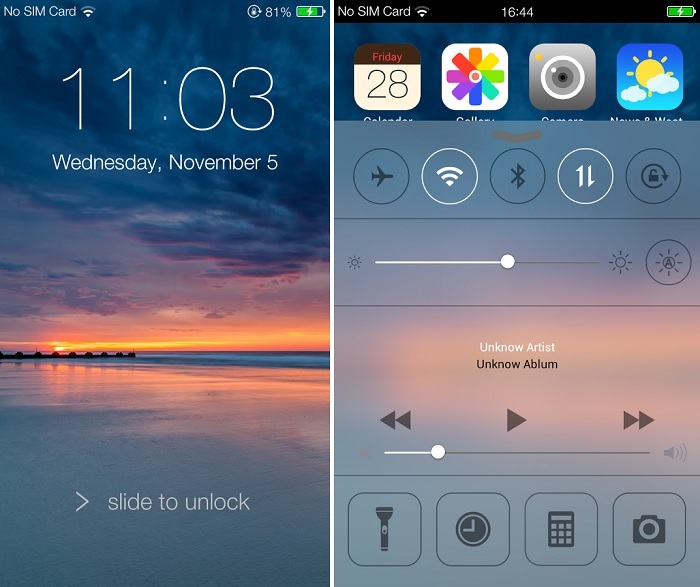 Features of CleanUI
Transparency to the whole experience. Complete implementation of the iOS-like interface into the Android in flat-style. That includes homescreen, notification bar, lock screen, control center, dialer, and contacts.
Dynamic icons for calendar and clock, dynamic color indicators based on the shade of the homescreen wallpaper.
Supports widget, shortcuts, and options. The customization of the layout of the icons, their size, rows and columns, and much more.
Lock/unlock icons. Hide the icons that you want. Custom design for icons can be made by you.
Change the color of the status bar you like for each app.
Slide to Unlock lockscreen slider like the iPhone has. The text can be changed to anything.
Control Center to rapidly access the shortcuts like Wi-Fi, Airplane Mode, Bluetooth, Torch, Music, Data, Screen Orientation, Camera, Calculator, and others.
iLauncher – OS 9

Another popular and coolest iPhone launcher is the iLauncher – OS 9. It has a compelling homescreen for your Android that lets you feel the iPhone UI. The launcher is quite smart, if you install it on an Android smartphone, it turns the device into an iPhone while installing on Android tablets will turn into iPad instead.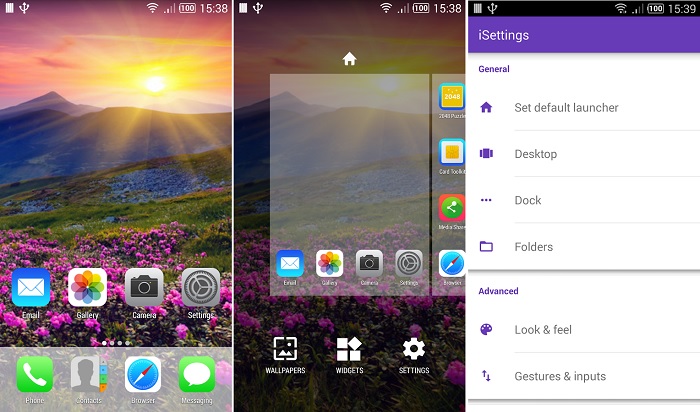 Features of iLauncher – OS 9
No App Drawer
Easy to use
GesturesPersonalization: Customize grid, customize folder preview, hide search
Personalization: Customize grid, folder preview, hide search bar and more.
X Launcher
With X Launcher, you can turn your Android smartphone to look like an iPhone. The user interface resembles the interface of the iPhone. The launcher is an elaborate, smooth and beautiful giving you quite a different feel. The user interface of this launcher is plain and intuitive, hence, it is easier for the users to interact with needing any instructions.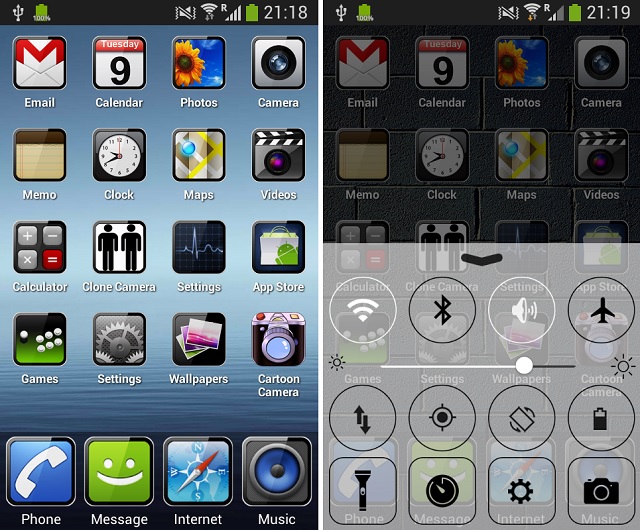 Features X Launcher:
Easy to use, lightweight and smooth.
Clear UI, smooth and fast performance
Customizable themes
Lightweight and remarkable 

features

It's free to download without any hesitation
iLauncher plus
There's another iOS launcher for your Android smartphone that seems to be a decent one. iLauncher plus is very simple with no-frills, easy-to-use, and light in weight launcher for Androids. Although it doesn't bring that much look on your device, it matches the homescreen pretty good and what is better than having custom icon packs. You can select from a wide range of icons and apply it. There are other features that make it glow among the coolest iPhone launchers.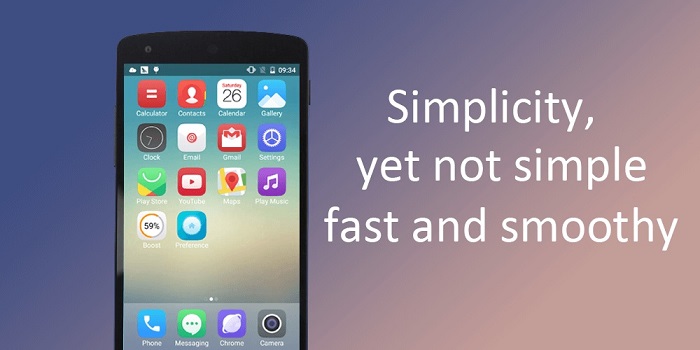 Key Features of iLauncher plus
It is simple and very lightweight app.
Customization: Custom icon packs including iPhone 6 Plus themes
It supports smart widgets: dynamic clock and calendar icons
iPhone 6 Transition Effects
Supports Live wallpapers
Flexible theme options
One-tap boost to make your phone faster
Available for Free
One Launcher
Last but not the least, One Launcher is no doubt a great iPhone launcher for your Android device if you love iOS style homescreen. One Launcher is filled with lots of exciting features with a clean and polished UI. It doesn't hog memory and CPU resources too much. The UI is pretty identical to iOS 9 and you will enjoy interacting with.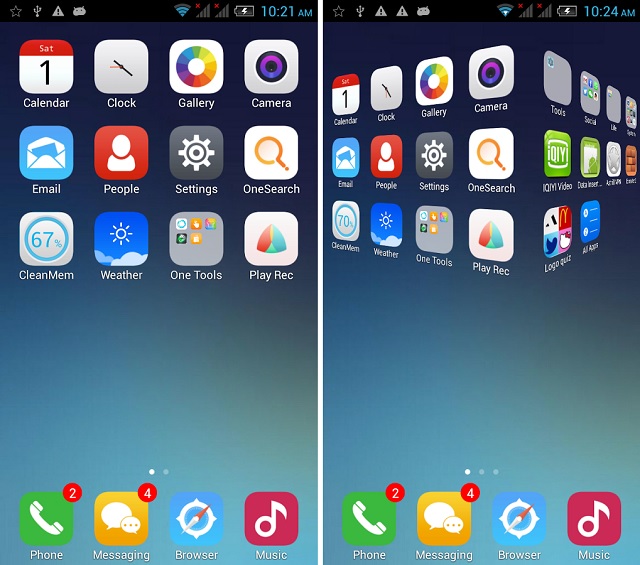 Features of One Launcher
Light in weight i.e. doesn't hog CPU resources like other heavy launchers
Uncluttered UI experience
The homescreen can be customized with a plethora of themes
Flexible theme options
Supports smart widgets, transitions, and effects
These were the best iPhone launchers that I have found over Google Play Store. Try it once and if you like it, give us thanks or share our post over the social network among your friends. There are plenty of other launchers to try out and if you find a better one on Google Play Store, comment them below so that we can include it in our list if possible.
What do you think, which one did you like among our list of these 5 coolest iPhone launchers? Do comment it.