Is this the official image of the Sony Ericsson Nozomi?
According to a Chinese forum this just might be the rumoured handset from Sony Ericsson doing the rounds codenamed as Nozomi.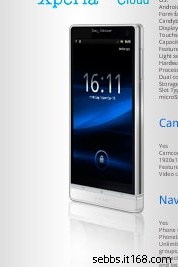 The handset which has been leaked before is leaked yet again with a small thumbnail sized image. Expected to be announced MWC in February 2012, the handset is also said to be a flagship device. The rumoured specs of the device say that the handset will include a dual-core processor a 12MP camera with full HD 1080p support and an HD display with a resolution of 1280×720.

We also presume that it will run on Android Ice Cream Sandwich with its all new Timescape UI, but then that is just our presumption. So is Nozomi going to be Sony Ericsson's first dual-core smartphone? We'll have to wait and watch.