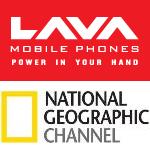 Lava International has announced a 3 year association with Singapore based TV Channel National Geographic in a recent move to lure customers with the quality content of National Geographic Channel.
In this business alliance, All Lava handsets will come preloaded with National Geographic Channel content & applications. This move is a gift for the channel fans as they will be able to access wallpapers & Ringtones of National Geographic Channel in Lava handsets. The Lava users will be able to access their favorite NGC Content, Technology and breathtaking action of Wild Life using a mobile Phone. This association will enable Lava to attract new customers and the NGC content would be accessible to customers, anytime anywhere on their Lava Mobile.  
NGC is known for its endeavour to sensitize people to care about the planet through its info rich articles, videos, across the globe .Lava, are known for its connectivity with the masses and widespread reach. These compatible competencies of both the companies have brought them together to move ahead and forge a partnership so as to fulfill the Indian consumer requirements. This association would enable Lava users to capture high quality picture and video content of National Geographic Channel on their mobile phones.