The most powerful Berry ever, the Blackberry A10, is news almost daily but we still hadn't had much on the specs of the device. But now thanks to a leaked company memo, we have enough details to satisfy us.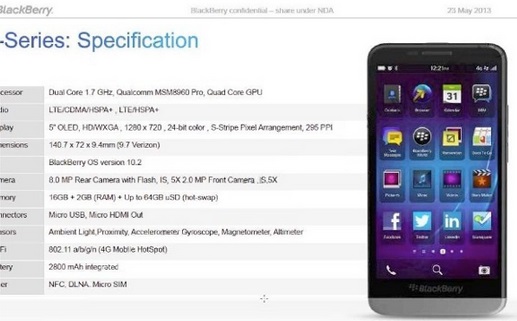 According to a confidential Blackberry document, all the specs of the Blackberry A10 were revealed. The device would be the first Blackberry device to touch a 5 inch display mark, but with a resolution of just 1280 x 720 pixels. The device would be powered with a 1.7 GHz dual core Qualcomm Snapdragon S4 Pro processor along with 2 GB of RAM and 16 GB of internal storage. The device would be equipped with an 8 MP rear camera besides a 2 MP front facing camera. The only plus point would be it would run on the latest Blackberry 10.2 OS.
It is hard to imagine a state wherein the so called powerful Blackberry would even create some hustle in the market dominated by powerful quad core processor powered 5 inch fHD Android device with cameras of 13 MP and above. The specs mentioned by Blackberry already seem quite redundant.
Expected specs of the Blackberry A10 Aristo:
5 inch display
1280 x 720 pixels resolution
1.7 GHz dual core processor
2 GB RAM
16 GB internal memory
8 MP primary camera
2 MP front facing camera
Blackberry 10.2 OS
2800 mAh battery