LG Cookie Glide (GT350i) with BlacMail launched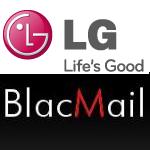 LG Cookie Glide (GT350i) now comes powered with BlacMail, the push mail solution offered by Mobile applications and technology firm Fifth C. A partnership deal is inked between Fifth C and LG Electronics India ot offer BlacMail on LG mobile phones. So, we can expect similar features in some of the future LG mobiles, if not all. Buyers of new LG Cookie Glide will get two months free trial of BlacMai.
On this, Mr. K. Krishnamohan, Founder and CEO of Fifth C said: "Through this strategic partnership with LG, Fifth C is committed to bringing to market the latest innovations in push messaging through its BlacMail platform on the range of LG mobile phones. The new LG Cookie Glide GT 350i fulfills a key market need of affordable push email service through BlacMail."
Talking about the partnership, Mr. Sudhin Mathur, Business Head LG Mobile Phones said: "It is always our endeavor to bring out the best and most cost effective solutions for our consumers. Today, consumers use email but restrict their usage due to data charges, and connectivity issues. Blacmail™ is a ready- made solution that not only eases hassles of connectivity but brings in cost saving due to reduced data charges."
LG Cookie Glide GT 350i is a sleek messaging phone with a slide out 4 line QWERTY keyboard, resistive touch enabled 3-inch WQVA screen and 2MP camera. The interface has been designed for social networking and communication by providing full integration with sites like Facebook and Twitter. It aggregates information from multiple social networks onto one screen, making it easy to instantly check status updates, keep track of friends and respond to messages. The keypad has dedicated buttons for direct access to social networking sites.