We recently spotted the self-healing wonder, curved display featuring LG G Flex at an Indian online retailer and now, LG has officially launched the LG G Flex in India at a pretty hefty price of Rs. 69,999.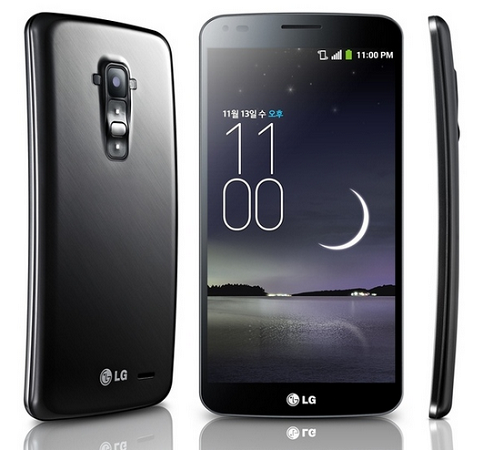 The LG G Flex was unveiled back in October and it's only now that the futuristic device has hit Indian shores. The G Flex is a unique smartphone in its own right. It features a curved design with a curved plastic OLED display of 6-inches with a resolution of 720p. Thanks to the curved vertical design, the device does feel a little smaller than the usual 6-inch phablets. This design also reduces the distance between one's mouth to the microphone which results in an increase in the sound level by 3dB making it easier to talk on the huge device.
Another unique feature of the device is the 'self-healing' coating on the back which recovers itself from light scratches and scruffs although big dents and scratches cannot be healed.
Mr. Soon Kwon, M.D., LG India said on the G Flex launch, "Curved flexible displays are a groundbreaking technology that enhances consumers' viewing experience by many degrees. LG's latest offering G Flex combines innovation and technology along with sleek, curved design that not only delivers a more comfortable grip and fit, but offers better voice and sound quality. G Flex represents a new era in the smartphone space where curved and flexible displays are no longer a sci-fi fantasy."
The smartphone is surely special giving us an outlook of what we can expect from future smartphones but the pricing is just insane. You can go ahead and buy two Nexus 5's at that price and still have money left but if you want a unique device with the latest tech built in, you can surely give the G Flex a try. So, this demands a question for sure, will you buy the LG G Flex at Rs. 69,999?
KEY SPECS OF THE LG G FLEX
6 inch display
1280 x 720 pixels resolution
2.26 GHz Quad-Core Qualcomm Snapdragon 800 processor
Adreno 330 GPU
2 GB RAM
32 GB internal memory
13 MP primary camera
2.1 MP front facing camera
Google Android v4.2.2 Jelly Bean
3500 mAh battery