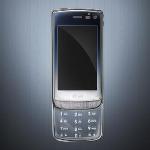 LG has launched a completely new design concept of transparency with its LG- GD900 Crystal. LG GD900  is the world's first transparent phone. It is the first phone to feature LG's next generation touch technology and Gesture Command, which complements the 3D S-Class User Interface.
Priced at Rs 26,000, the phone is available in Chrome and Titen color.
The LG-GD900 Crystal's slide-down Crystal Touchpad first appears to just be an alphanumeric keypad, but it actually doubles as a touchpad for controlling the phone. It can be used like the trackpad on a laptop computer but also recognizes handwriting, responds to multi-touch commands and enables a new way of navigation called Gesture Command.
The Crystal Touchpad is completely transparent and illuminated with a soft glow. This scratch resistant design made from tempered glass and reinforced by a band of Liquid metal ensuring extended use.
To launch a feature on the LG-GD900 Crystal, simply press the phone's multitasking button and draw one of 12 easy symbols on the keypad. Users can assign these symbols to any of the phone's nine multitasking-enabled features.
For instance, if the symbol resembling a capital M is assigned to the MP3 player or a capital C is assigned to camera, launching any of these features is as easy as writing M or C on the Crystal Touchpad. This makes easy to start some background music or camera in the middle of another task. This same M symbol could be assigned to a different feature like the Memo Pad instead, based on individual preferences.
The handset also features a dedicated graphics chipset. An 8 megapixel camera and MP3 player round out the phone's main features. It also packs in Wi-Fi, 3G, 7.62 cms WVGA full touch screen, Dolby Mobile enhanced sound and DVD resolution video recording amidst other key features. The handset has an internal memory of 1.5 GB and is expandable upto 16 GB. Banking on audio and animation, the phone fits well in the best buyer phone for its extensive features and added benefits.