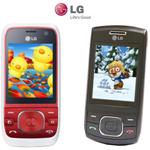 LG Electronics has announced the launch of  two new swanky handsets – LG GU220 and GU285 – in the Indian market. The price of the LG GU285 and GU220 is Rs.6500 and Rs. 4500 respectively.

LG GU285

The sleek, compact slider LG GU285 is 3G enabled and has a large 5.6cm screen, coupled with 1.3MP smart camera, with an added function of printing images through blue tooth. The Secondary VGA Camera not only allows you to take your own portrait pictures but also is future ready for video telephony. The phone's classic design matches fast life and a fasted to access favorite function with configurable Hotkey and Multi Tasking Key.

Fast internet browsing speeds enabled through EDGE. It sets up-to 5 Email Accounts, and in addition to it one can take download at higher speeds with 3G Data Connection. The Memory is expandable up to 8 GB. The phone offers, 10 hrs of Talk time and 580 Hrs Standby time. Multimedia features like FM Radio and MP3 player with 6 built-in equalizer makes music listening a different experience. It comes with applications like RockeTalk to connect to instant messengers like Gtalk or Yahoo, Live Cricket Action through Just Cricket's Cricket Simulation, Favorite Regional Newspapers online through News Hunt, Try and Buy Games – Ferrari GT, Diamond Twister Demo Mini Game Planet, Sudoku etc.

LG GU220

The Sleek Stylish Slider LG GU220 is a complete entertainment phone, which comes with a premium metallic look and seamless slide Keypad with solid metallic design.

It has a large 5.6cm screen with ready to access functions from the home screen. Multimedia features include VGA Camera to capture your favorite fun moments. Music lovers can listen and record their favorite songs through FM recording feature. Fast connectivity, faster browsing and downloading speeds with EDGE, extra long usage of up-to 10 Hrs Talk-time.