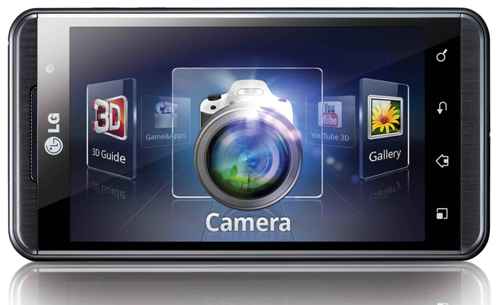 LG Electronics has finally announced the launch of its first ever 3D smartphone, the LG Optimus 3D. It is also the world's first 3D smartphone that does not require special glasses to view 3D content. With the LG Optimus 3D the company introduces a number of innovative "first" technologies, including the world's first 3D mobile camera to record 3D content, the world's first dual-core, dual-channel and dual-memory architecture making it a super-smartphone. The super device will allow users to create, view and share 3D content and multitask with ease.
Speaking on the launch, Mr. Vishal Chopra, Business Group Head, Mobile Communications, LGEIL commented, "The LG Optimus 3D is super-smartphone which gives our consumer the pleasure of 3D without the special glasses. Its exceptional features combined with super computing capabilities will add a new dimension to the smartphone experience. The smart consumers will now have the power to create, view & share real-life 3D content and the power to explore the world of unlimited possibilities."
The handset has a dual 5MP lens camera for 3D pictures and videos and a 4.3-inch WVGA display that provides bright and flicker-free images allowing users to view 2D (up to 1080p) and 3D (up to 720p) multimedia content. The 3D interface can be activated with the click of LG's unique 3D Hot Key which presents five 3D-dedicated UIs, including Gallery, Camera, Game & Apps, YouTube 3D and 3D Guide.
Other features include and HDMI out port, DLNA, Wi-Fi, Bluetooth, 3G, 8GB of internal memory which is expandable via microSD card, 512MB RAM, and all of this is powered by Android 2.2 which can be upgraded to 2.3 Gingerbread.
 
It will be priced around Rs 37,000 and will be available at leading retail outlets from September 2011.