The guys at iFixit, who are experts in dismantling the latest gadgets which you eagerly wait to buy have today caught hold of the LG Nexus 4 smartphone which many prospective buyers have been finding hard to place order with Google.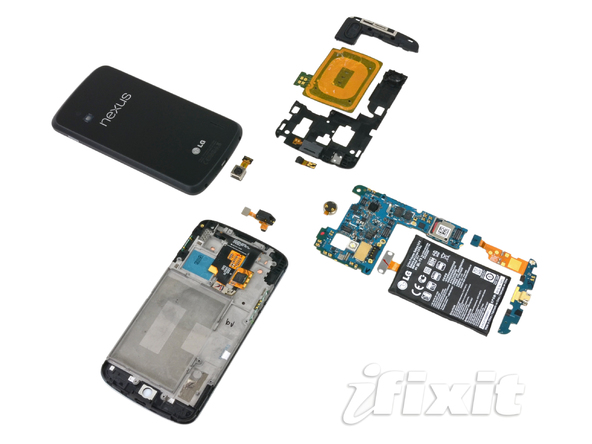 They are done with the teardown of the Android 4.2 Jelly Bean running smartphone and have rated the smartphone 7 out of 10 on the repairability chart, where 10 being the easiest to fix.

The teardown experts found out that the rear cover of the Nexus 4 is not just a piece of plastic but does a lot of work. The rear cover packs in the NFC antenna and a few pressure contacts power it which also connects the induction coil which is used for wirelessly charging the smartphone, to the motherboard. Sadly the smartphone doesn't arrive with a wireless charger.
 
Coming to the 2100 mAh battery that powers the Nexus 4, it is a bit hard to remove it from the smartphone as the battery is not only held up by a couple of standard screws but it is also stuck to the frame with a lot of adhesive, so removing it without puncturing the battery can be difficult.

Interestingly via the teardown, iFixit has also found that the LG Nexus 4 houses a Qualcomm WTR1605L Seven-Band 4G LTE chip which indicated that LG and Google have deliberately disabled the LTE connectivity on the new Nexus.
 
The glass of the Nexus 4 is fused to the display and also to the display frame which there is a possibility that if you crack it, you will have to replace both the frame and the glass which could be a costly affair.
 
Rest of the parts are easy to remove and repair so those do not cause much of a trouble while removing them. To catch the detailed teardown, hit the source link below.

Via