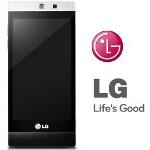 LG has announced the launch of LG Mini (LG GD 880). LG Mini is the smallest and slimmest 3.2-inch full touchscreen phone on the market today. LG Mini boasts a 5.0 megapixel camera featuring advanced face detection which allows uploading of sharp, vivid pictures and videos wirelessly to multiple social networks in one step. The device also plays music and movies in several popular file formats and even includes an FM radio.

Besides features speedy web browsing and fast push email, the LG Mini also includes several aspects like Social Network Connect, which makes keeping in touch with online friends easier.Popular social networks such as Facebook and Twitter are instantly accessible through built-in applications and a Social Network Feed provides instant and automatic updates of friends and family members on the home screen. Updates also appear next to each contact in the Social Address Book.

With HSDPA connectivity at 7.2 Mbps and Wi-Fi, the LG Mini can browse the internet at high speed and also provide real-time location information using A-GPS.

The LG Mini will be available in Europe starting in March, followed by other markets. Prices will vary country-to-country and are not yet announced.