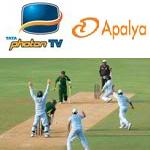 TATA Teleservices has entered into an exclusive partnership with Apalya to offer live streaming of Asia Cup for both Tata Photon Plus users and Tata DOCOMO subscribers.

TATA subscribers can now stream live content, listen to score updates, download special videos and get SMS alerts for Asia Cup matches.

For Tata Photon Plus customers
Asia Cup is accessible on Tata Photon Plus customers' Mobile and laptop using Tata Photon TV, with the addition of an exclusive channel telecasting the event. The pricing for the event on laptop is Rs 5 per match; Rs 25 for the full tournament while Asia Cup is available absolutely free of cost for Tata Photon TV on Mobile. Tata Photon TV is available only on LG 510, Samsung-Corby, Samsung-M519-Metro & Blackberry-9630 (Pre imbedded).

For Tata DOCOMO customers
Asia Cup content is delivered through multiple channels. Subscribers can take their pick for getting Asia Cup updates through:

Live streaming of Asia cup matches on mobile using GPRS. Tata DOCOMO subscribers have to download MiMobiTV, a GPRS based application that allows to watch Asia Cup 2010 on streaming enabled Mobile handsets. Subscribers can download the client application at no cost while browsing the content is charged at 1p/1 KB in home network and 10p/10KB while on off net roaming. To download the application, send an SMS 'LIVE' to 54321 (Toll Free).

Tata DOCOMO customers can get Asia cup updates on SMS that is available in three different packs; Daily pack at Rs 5 for every match, Weekly pack at Rs 10 for 7days and Monthly pack at Rs 30 for 30 days. Users can also avail of Daily match updates via Voice packs by dialling 54321194 @ Rs. 5 per Match day.

Using the GPRS platform, Tata DOCOMO subscribers have a choice to download exclusive videos of Asia Cup. The Asia Cup Portal by Vuclip will have videos of Match Highlights, Wickets, Fours & Sixes. Users can watch the video clips of match being played as well as previous matches. Data charges as per the data tariff plan of the user.