Local News Apps available for Windows Phone handset
Now we all know Windows Phone apps are growing steadily. While there aren't many options for a WP user, Microsoft is trying every bit to stuff up its Marketplace.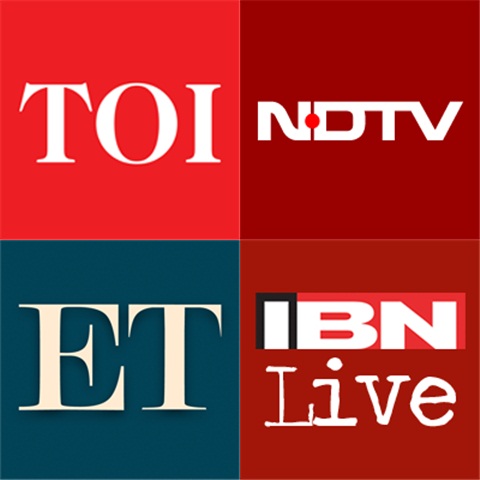 So if you want to be updated on the latest happenings and news around the country, we have some news apps on Windows Phone for you. Read on for more.

Times of India App
The Times of India's latest and full news coverage, including photos and videos.
Get The Times of India's complete and up-to-date coverage of everything that is relevant and interesting — anytime, anywhere. This app, designed and developed for Windows Phone devices, brings you breaking news and unrivalled coverage of national, international, city, sports, entertainment, lifestyle, business, health, science and technology topics from India's most-read and most-trusted newspaper. It comes with live cricket scores and a complete scorecard; local news from more than 30 cities; latest movie reviews by critics as well as readers; superb photo galleries; and top videos from news, business, sports, entertainment and lifestyle categories.
NDTV App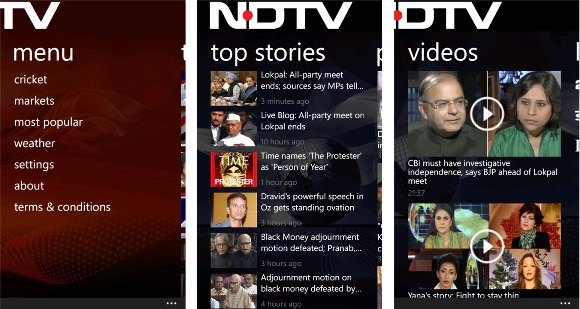 NDTV App brings the latest, biggest news and much more from India's most respected and largest private television network.
You can follow breaking news and latest updates as they happen through stories, pictures and videos on demand. Watch live video of leading group channels – NDTV 24×7, NDTV India, NDTV Profit and NDTV GoodTimes, streamed directly from the studios. You can also listen to live audio feed from these channels. Get direct access to best in class multimedia content with videos of news stories, Bollywood and top prime shows from its channels on the app.
Also available are specially selected photos and slideshows presenting the day's key events.
Get live updates from the stock markets, ball-by-ball scores from all cricket matches and weather updates from your city.
Economic Times App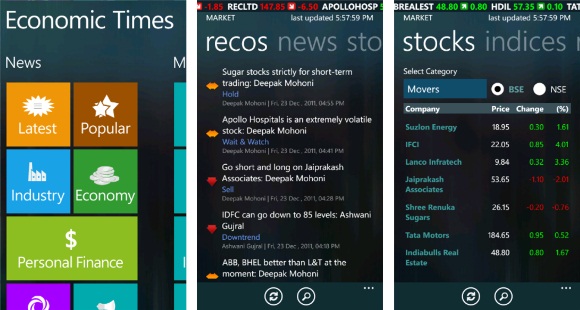 Get The Economic Times advantage to track the latest business news on the go and make informed decisions. Download The Economic Times app and stay updated with unrivalled coverage of Markets, Business and Economy news right on your Windows 7 smartphone.
The Economic Times App lets you:
– Get the latest and popular business news.
– Share news articles with friends, colleagues, partners via email, Facebook or Twitter
– Profit from Stock Market views and recommendations from Experts
– Latest updates from the Stock Market
– Track Stocks in the Market with the latest Gainers, Losers, Movers, etc.
IBN Live App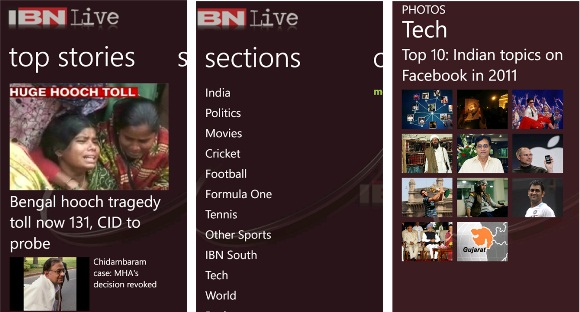 Convert your Windows phone into a complete news device. Get the latest headlines and complete news reports from India wherever you want it, whenever you want it.
– Discover and read the latest and top news
– Read the story, watch the video and view the photos – all on the same screen
– Save news stories to read at your convenience
– View the latest news clips on video
– Watch all the shows, including Face The Nation, Devil's Advocate, The Week That Wasn't and more
– Get live cricket scores
– Post links on your Facebook wall or mail them to your Facebook friends
– Tweet links to your followers' timelines