Lookout App to save your iPhone and the data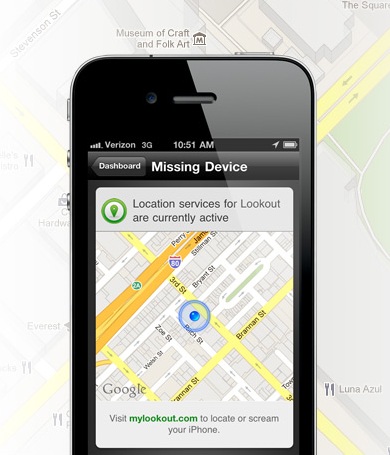 Many iPhone users are always worried about the security of their iPhone when they access public Wi-Fi or what will happen if their iPhone is stolen or lost. So to curb all your worries Lookout for iPhone is a single easy to use app that keeps your iPhone safe and secure just like Android devices.
Lookout is a complete combination of security and privacy protection in a simple yet powerful app. Whether you're concerned about a network connection, wondering about the security of the software on your phone, or have suddenly lost track of your iPhone, Lookout will take care of it. Features of Lookout are:
Missing Device: Lookout can easily find your device on a map and sound an alarm so that if it's anywhere nearby so that you can find it out.

System Advisor: It can notify you about your iPhone settings or software that could put your privacy at risk and it also lets you know if your iPhone is Jailbroken and the risks it can face.

Location Services: By this Lookout lets you know which apps can access your location details.

Security: With a few simple steps Lookout will protect your privacy and secure your iPhone.

Wi-Fi Security: Lookout warns you if an unsecured Wi-Fi connection tries to connect to your iPhone and which may access your private data.

Backup and Restore: Lookout backups your data and contacts OTA and later you can access all your data on the secure Lookout website any time and restore your data to the same iPhone or a new iPhone, other Smartphone or iPad.
Lookout is available for iPhone, iPad and iPod Touch. To get your own copy of it visit here.