Loop Mobile introduces Service at your doorstep with Mobile Service Gallery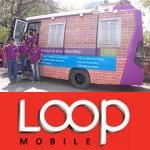 Loop Mobile has launched its Mobile Service Gallery in a bid to provide its subscribers the flexibility to access services at their doorstep. The services being offered at the Mobile Service Gallery are similar to that of any Loop Mobile outlet. The 'mobile' service gallery is a first of its kind in Mumbai. Loop Mobile subscribers can now simply step in the van positioned in their neighborhood and enjoy an innovative experience.

The van is designed by Dilip Chabbaria. It is furnished with customer service desks, with three trained executives posted for assistance.Activations of new postpaid & prepaid connections, prepaid recharges via e-top, on-the-spot bill payments will be offered at the mobile gallery. Value added services activations and deactivations, SIM card replacement and upgradation, change of mobile number, change of tariff plans and resolution of billing & service queries will be provided as well.

With pre-determined geographical areas and routes to cover, the van will visit different areas of the city everyday. Loop Mobile subscribers will be informed a day in advance of its presence in their neighborhood via SMS. The van is equipped with Global Packet Radio Service (GPRS) to provide online connectivity to facilitate activation of any mobile related service.