Android 6.0 Marshmallow captured 1.2% share in Android Distribution last month, and now, Marshmallow has almost doubled (well not exactly) its share by capturing 2.3% of the distribution chart.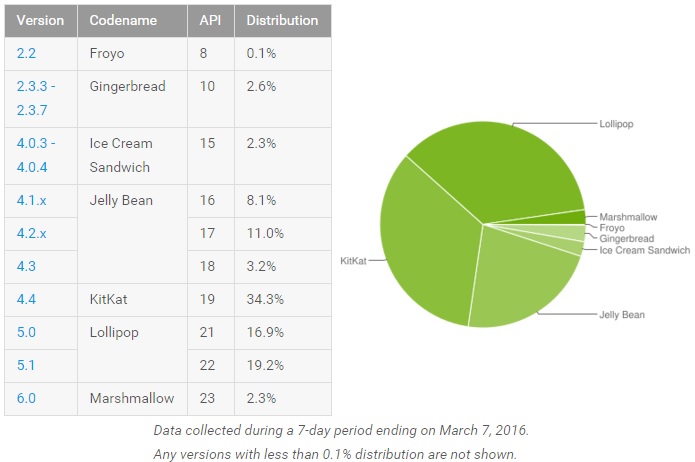 It's worth noting that the Marshmallow was released in the form on developer preview last year in May during the Google I/O event and was later on unveiled in September during the launch of Nexus 5X, Nexus 6P and the Pixel C tablet.
KitKat which was leading the charts last month with a total share of 35.5% is now sitting with a total of 34.3%. Lollipop which was having a share of 34.1% is now leading the chart with a total share of 36.1%. These are followed by Jelly Bean with 22.3%, Gingerbread with 2.6%, Ice Cream Sandwich and Marshmallow with 2.3%, and, Froyo with 0.1%.
With 0.1% share, we expected Froyo to be out of the chart this month but that didn't happen. The reason for Marshmallow's low share despite being available since months shows that OEMs are pretty slow when it comes to providing updates. Head on to the Android Developer blog for more details.
Has your Android device received the Marshmallow update?