Smartphones are getting more and more powerful nowadays and hence their power consumption is increasing as well. While we are not seeing any breakthroughs on the battery front, companies are trying to make their chipsets more power efficient. We either come across a device which has power efficient SoC or a device which comes equipped with fast charging tech so that we can juice up the battery pretty quickly. One such technology has been introduced by MediaTek today, the Pump Express 3.0.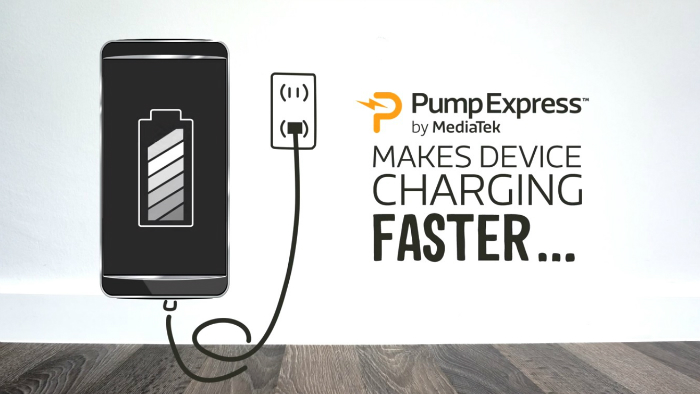 MediaTek's Pump Express 3.0 technology is its fastest battery charging technology to date. MediaTek claims that this technology can charge your device from 0 to 70 percent in 20 minutes. However, the company didn't mention how big a battery they were referring to. 5 minutes of charging with Pump Express 3.0 can provide four hours of talk time on 3G connection.
"The engineering challenge in the smartphone world today is satisfying consumer demand for powerful, rich multimedia features without needing to plug in their phones all day long. Our technology lets consumers power up quickly to stay connected, on the go and using their favorite applications whether for work or play instead of tethered to an outlet." said Jeffrey Ju, Executive Vice President and Co-Chief Operating Officer, MediaTek.
"Pump Express 3.0 is another example of MediaTek bringing better experiences to device makers and consumers. We continue to push the limits of what technology can do without making it complicated for the end user." Ju further added.
Pump Express 3.0 also becomes the first charging technology which can charge directly through USB Type-C power delivery. "Direct charging bypasses charging circuitry inside the phone and prevents the device from overheating while also routing electrical current from the adaptor directly to the battery." MediaTek explained.
Check out this video below to get a better understanding of Pump Express 3.0
The Pump Express 3.0 technology will be available in Helio P20 powered devices which are expected to be in the market by the end of this year. What do you think about the Pump Express 3.0 technology? Liked it? Or are you more of Qualcomm Quick Charge 3.0 fan? Let us know in the comments below.