Micromax has launched the Canvas Unite 4 and Canvas Unite 4 Pro in India today. The Canvas Unite 4 is priced at ₹6999 whereas the Canvas Unite 4 Pro carries price tag of ₹7499. Both these smartphones run on Indus OS 2.0.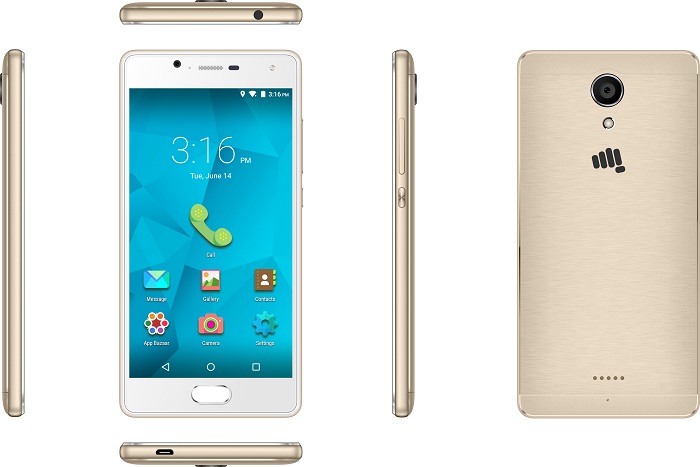 The Canvas Unite 4 is powered by a 1.0 GHz quad-core processor which is coupled with 1 GB RAM. It has 8 GB internal storage whereas the external storage can be expanded up to 64 GB via microSD card. The device sports a 5-inch HD display and packs a 2500 mAh battery. There's also a fingerprint scanner at the front which is housed on the home button. The Unite 4 features an 8 MP rear camera and a 5 MP front camera.

Coming to the Micromax Canvas Unite 4 Pro, it has a 1.3 GHz quad-core processor under the hood which is paired with 2 GB RAM. The device flaunts the same 5-inch HD display found on the Unite 4 but packs a bigger battery with a capacity of 3900 mAh. There's 16 GB of internal storage on offer and the external storage can be expanded up to 32 GB via microSD card. Camera department on the Unite 4 Pro is similar to that on the Unite 4. The Unite 4 Pro too comes with a fingerprint scanner.
The main highlight of both these smartphones is the Indus OS 2.0. It brings along 12 regional languages of India including Urdu and Assamese along with it. Features such as Indus Swipe, Hybrid Keyboard, Text-to-Speech and App Bazaar have also been included. The App Bazaar is a regional language app marketplace which offers localize store front, regional language app details and regional language search. It also allows users to download the apps and pay for them even without requiring an email ID or credit card.
"We at Micromax believe that the key levers of smartphone category growth are regional language, big screen size, 4G, online and mid premium segment. Regional language support is the most overlooked with Micromax being a pioneer in bringing language smartphones to the country with its Unite series. Basis our research, we found that consumers don't upgrade because of lack of convenience and language inhibitions, contrary to the popular belief of price being the biggest barrier for most of the people wanting to upgrade from feature phones to smartphones. To address this challenge, we partnered with Indus OS to take a lead in breaking the language barrier and provide users the best localized smartphone experience." said Mr. Shubhajit Sen, Chief Marketing Officer, Micromax Informatics.
"With the launch of the new Unite 4 and Unite 4 pro we are all set to yet again break down the adoption barriers by bringing together an ecosystem of device, services, local language and internet. The launch is ably supported by a powerful 360 degree marketing campaign on the theme of 'Angrezipanti ko Dikhao Angootha'." he further added.
The Indus keyboard lets users type in language which is a combination of English and a regional language. It also supports runtime transliteration without requiring Internet connectivity. The Text-to-Speech feature lets users translate text into audio and the languages it's offered in are Hindi, Tamil, Malayalam, Marathi, Bengali and Telugu.
Lastly, there's this Indus Messaging Service which allows Indus to Indus free messaging.
[table id=32 responsive=flip /]
So, are you buying any one of these smartphones?